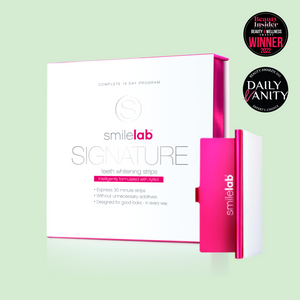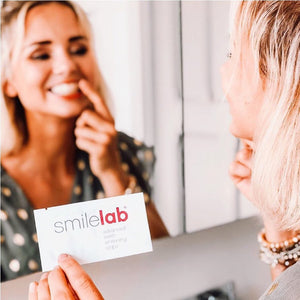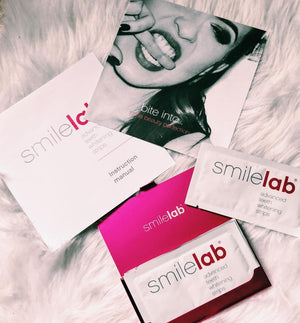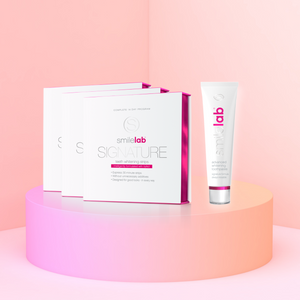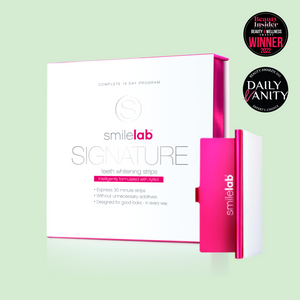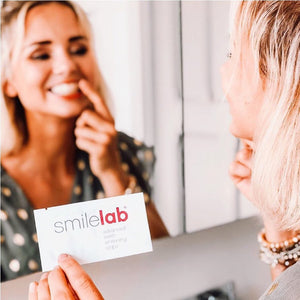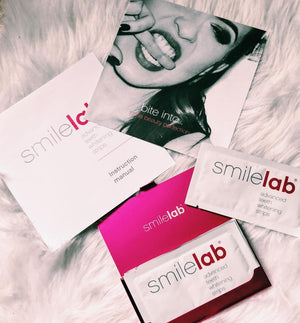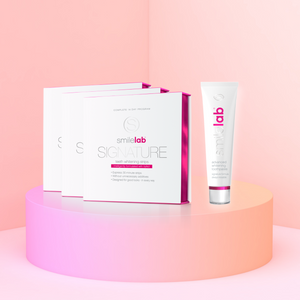 On Sale
Smile Lab Signature Advanced Teeth Whitening Strips
Using advanced methods, The Signature Advanced Teeth Whitening Strips will give you an all-in-one gentle smile care treatment, leaving your teeth whiter, cleaner and more healthy. Formulated by dental professionals with the use of Xylitol, this component helps to improve dental health by improving harmful bacteria and plaque, and prevents tooth decay and gum diseases. It also contains Vitamin E which promotes healthy strong gums and protects against inflammation.
Liquid Enamel™

Hydroxyapatite remineralises teeth. A natural ingredient that strengthens the enamel, making it less translucent. Teeth appear more solid, dense and white. Hydroxiapatite remineralizes teeth better than fluoride and is non-toxic.
- The world's most famous teeth whitening system

- Superior technology, super easy to use.
- Fast results with no sensitivity issues
- Superb cleaning and hygiene properties
Smile Lab Signature Advanced Teeth Whitening Strips is the Editor's Choice and Readers' Choice for Best Treatment for Teeth Whitening, in the Daily Vanity Beauty Awards (DVBA) 2022.

How to use
The Signature advanced teeth whitening strips have a 30 minute session time. Please read complete instructions included before use.
*This is a complete 14 days teeth whitening treatment kit. The box contains 14 double pouches with pre-dosed strips for upper and lower teeth. 7-14 days treatment time.
Ingredients
Glycerin, Aqua, Methylcellulose, Xylitol, Sodium Chlorite, EDTA, Citric Acid, Menthol