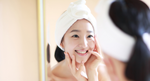 The topic of skincare has assumed a spotlight within our current climate. However, this emphasised importance is not solely built upon the premise of visual purposes; With our skin serving as the first line of defence from external hazards such as dust from antagonising our body, it is only natural to take care of your skin and provide it with ample protection. 
However, it is important to note that while most associate the terminology of "skincare" solely to the face area, this should not take away any significance from the subject of "body care", which comes hand in hand with the former (we really hope you got the joke), and should thus be just as prioritised.

It is undeniable that achieving a healthy lifestyle and routine includes the responsibility of ensuring your body is protected, both physically and mentally, allowing you to ultimately feel happier inside out.

As such, here is our take on the essentials needed for a simple yet fulfilling body care routine to elevate your skin health to the next level!
1. SCRUB AWAY

We're sure you've heard this before, but the process of exfoliation does indeed have a crucial hand in assisting the overall practice and outcome of skincare. 

By regularly extracting away redundant dead skin cell particles from the face and simultaneously offering a deep cleansing of your pores, this not only reduces the presence of imperfections and blemishes such as acne, wrinkles or discolouration and cellulite, but also permits the formulas of nourishing serums and hydrating properties within your skincare routine to better penetrate the skin surface, so that a more effective result can be achieved.

This task is most often performed with the use of a body scrubbing product, which usually represents a physical exfoliating material specially designed to remove dead skin cells from the skin. While there are many types of body scrubs available in the market, from sugar-based options to dry brushing, it is just as important to explore each choice and identify the composition best suited for your own personal skin type and condition.

However, if you are still a beginner and absolutely confused by this, fret not–we've got you covered; literally. It is good to practise caution towards exfoliating scrubs bearing ingredients of a stronger nature, such as homemade remedies with purely natural elements that could aggravate your skin, especially if you're already rather sensitive. Instead, it's good to start off with a body scrub of softer and gentler material, such as the Glov Skin Smoothing Body Massage that is made up of natural bamboo fibres that is gentle on all skin types, and has the added benefit of stimulating blood flow.
2. CLEANSE AWAY
Of course you should cleanse your skin. But–do you actually know why you should be doing that?

While this act may seem incredibly simple and ordinary, it is undoubtedly one of the key components ensuring a successful body care routine–and that is because this simple act is actually largely responsible for removing any sign of unwanted impurities on the skin surface such as makeup residue, dirt or even excess oil presence, and thus limiting the potential of you skin suffering from provoked breakouts, symptoms of premature ageing or even dehydration. Thus, it is no surprise that cleansing is considered the first right step in achieving an effective skincare routine.

Naturally, this step pertains to all areas of your skin, as it is cemented as an essential part constituting a healthy body care regime However, this technique is especially relevant to the visage, as our facial skin possesses a far more delicate disposition than the rest of the body, and is thus much more susceptible to being damaged or irritated by any external factors, especially with the extended use of makeup products and tools concentrated on this particular region.

With facial cleansers carrying such weight in maintaining a clear complexion, it might be easy to assume the mistake of over-cleansing, in which this step is repeated too frequently, or an unsuitable product too strong or badly suited for your skin is used. However, in actual fact, it is usually more than effective to simply wash the face twice a day, and any excess might actually have the opposite effect in drying out your skin. It is also always advisable to select a gentle formula that is still able to accomplish its purifying job, yet leaves a hydrating and refreshed effect.

Hearing this, you might rule out foaming cleansers. But, the nature of these products are actually rather competent in removing oil and sebum from the skin, yet contains a recipe that is considerate of dry and sensitive skin, such as the Acwell pH Balancing Soothing Cleansing Foam Cleanser well-known for its additional abilities of being able to effectively balance skin and provide moisture.  

3. LOTION AWAY
Using body lotion only during those few winter months is actually quite a misconception–so don't be fooled; supplying your skin with an intake of hydration and nutrients everyday is a must that cannot be jeopardised!

Many might simply associate the utility of this skincare product to a quick cure for dry skin, but it is in fact so much more than that: regular application of such formulas is actually an indispensable factor in achieving a vibrantly healthy and resilient skin condition.

There are countless hazards present in our everyday lives that are more than capable of drying out and subsequently causing damage to the skin, such as weakening its natural barrier to fight off infections and other external threats. With this in mind, the moisturising quality of a good body lotion and its skill in repairing this important barrier would allow you to be protected from this.

Thus, the significance of this step is not solely reserved for those more susceptible to issues of dry and itchy skin concerns, as any skin type would benefit from receiving a little help in preserving a smooth and plump appearance, especially after the demanding process of exfoliating and cleansing.

So, what's really stopping you from pampering yourself with the soft and creamy solution of a lovely body moisturiser after your bath? If you still need more convincing, some extra hydration is not the only thing you'll benefit; with organic options like the Joone The Perfect Anti-Stretch Mark Body Lotion, its ingredients are also designed to naturally repair the skin condition, as well as reduce the appearance of existing scars and stretch marks to effortlessly achieve younger-looking skin.
4. HAND IT AWAY
But wait–we're not done yet!
Did you know that your hands are one of the used body parts, and yet are unfortunately also the most neglected? This makes it no surprise that this area would be the most vulnerable to inheriting signs of ageing such as excessive pigmentation or the surfacing of new fine lines and wrinkles.
It might be easy to assume the nature of our skin on these areas to be tough and sturdy, with all the work we put them through daily–but that is really quite far from the truth: as a matter of fact, you might have noticed–does the skin on the back of your hands look as strong as the front?
Put simply, the answer would be a no; however, these two parts unfortunately come in a set, meaning that they are both equally subjected to a constant employment in accomplishing tedious tasks for us, being exposed to external climates that might be harmful, and could even receive damage from being used to apply skincare and makeup products on other body areas.; this thus explains the importance of owning a product especially made to care for your hands, as well as committing to the ritual of faithfully using it.
Most hand creams are fashioned in a small, travel-friendly package as well, allowing you to carry it around during the day just in case. An exemplar model of this would be the
Joone The Perfect Moisturizing Hand Cream
, which holds the perfect solution for soothing and softening hands, as well as strengthening their skin barrier in an adorably convenient tube!