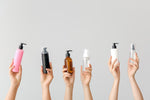 The new year is here, bringing with it hope and prosperity--along with the continuing popularity of zodiac signs. 
The subject of star signs have always served as an amazing conversation topic; whether it's to break some much needed ice between an acquaintance you're awkward around, or some casual chatter with your best friend, there's simply something so magnetically appealing about astrology, especially when it's being linked to aspects of your own unique life: from predicting weirdly accurate details of your personality, to tips on how to take care of your health–and finally, helping you decide what viral trend to experiment as a fun way to kick off the start of this year!

With the fast-paced and ruthless social media algorithm we are so used to viewing on major platforms like TikTok and Instagram, upcoming trends are that much harder to keep up with, and by the time you've just barely managed to understand this new concept, it's time for the next trend to come in. This effect can be particularly observed in the category of beauty trends, with there are so many different styles and realm of possibilities for one to express themselves through; as such, why not let your zodiac sign help in navigating through all these choices?
1. ARIES / RED HAIR DYE TREND
(Source: instagram.com)
First up, we have the pack leader: much like this description, Aries signs naturally tend to take charge in a situation, and never fails to impress others with their unwavering confidence, bold honesty and high energy.

Taking this adventurous spirit into account, we'd like to suggest refreshing your look with a pop of colour that never gets old–or cold. The precedence of a Hot Girl Summer attitude appears to have manifested into a growing trend of creators dying their hair a daring shade of red that is just as hot! This has prompted a surge of popularity in choosing the use of strikingly warm tones to completely change up one's appearance that does not appear to be leaving the pages of social media platforms just yet. Furthermore, no lack of how-to videos disclosing personal secrets on how to achieve specific effects of red hair dye, booking a 6 hour appointment at a costly salon is no longer a necessity, making it that much easier to try this trend out for yourself!

With easy access to local stores all around the island, it's not difficult to visit a nearby Watsons Singapore store and browse the hair dye aisle, with popular brand name such as
Blackpink's Mise-en-scène Hello Bubble Foam Hair Colour.

And let's be honest: what better to suit the vibes of a vibrant Aries than a fire hair look?

Here are some Aries comrades you might recognise: Mariah Carey, Reese Witherspoon, Lady Gaga, Evelyn Ha, Max Dressler 
2. 
TAURUS / CROCHET TREND
(Source: Pinterest.com)
Remaining consistent with their inherent nature as an Earth sign, Taurus bearers are known to be the most down-to-earth within the astrology group; however, this is not to say their fashion game is affected by this in any sense! In fact, the wardrobes of these individuals are as reliable as their personality.
As such, the Crochet Trend seems most fitting for this zodiac to adopt for themselves: derived from the Cottagecore Aesthetic trend that blew up from its exposure on TikTok, it's really not difficult to understand why this style of dressing is so popular: it's unique, adorable and very breezy! SHEIN Singapore has the cutest selection of crotchet tops to explore, and find your own unique style of soft.

For Taurus constellations who usually carry an emphasis in the quality of their personal comfort, yet absolutely adore pulling off statement pieces, this fashion craze would be the optimal choice to experiment with in 2023, and will be likely to stay for a while!

Here are some Taurus comrades you might recognise: Adele, Tina Fey, Gigi Hadid, Charli D'Amelio, Noah Beck
3. GEMINI / BLUSH TREND 

(Source: vogue.sg)
Always bursting with bright energy, we're sure everyone is familiar with the playful and intellectually curious disposition of this zodiac that is accompanied by a strangely innocent charm; for this specific sign, we've chosen a trend we think is sure to match such an eye-catching spirit: have you heard of the Blush trend, by any chance?

We know there have been several floating across TikTok that come to mind–but, what if we're referring to all of them?

While these different techniques might all appear the same on the surface, each style actually has a very strategic and intentional product placement on certain parts of the face to achieve different effects–which is perfect for the adaptable and versatile characteristics of a true Gemini! With little fear and a zest for new experiences, having a selection of choices to choose from would allow more creative freedom for experimenting, and identify what alternative works best for their own personal makeup routine. For the social butterflies of the zodiac, a combo of extra blush with their signature bubbly smile will be a sure gamechanger!

In fact, lipstick products actually provide an ideal formula to experiment with different blush placements, due to their cream design that is easy to apply and blend. With Propa Beauty's extensive collection, we believe there's a shade for every skin complexion and type, as unique as a Gemini!

Here are some Gemini comrades you might recognise: Angelina Jolie, Natalie Portman, Kanye West, Darren Liang, Mark Anastasio
4. CANCER / MANGA LASHES TREND 

(Source: Pinterest.com)
As the first appointed water sign within the celestial lineup, Cancers are rather recognised for their powerful intuition and emotional depth. For this nostalgic and sentimental sign, the recently viral spiky lashes that have been going around might add just the right amount of drama to their usual makeup look.

Despite possibly coming off as cold and distant at the start, the seemingly tough exteriors of these zodiacs are simply masking the abundance of compassion and care they hold for loved ones, and seem to have a magnetically alluring personality with several points of attraction.

Thus, a dreamy and naturally captivating look that will never bore would best suit this sign–which can be achieved through the presence of these doll-like lash features inspired by Japanese animation to serve as the perfect extension of their sassy yet cutely sensitive tendencies.

Cinderellash SG actually offers this recently popularised style of lashes as one of their selectable choices, and has reflected positive reviews on the locally hot app Lemon8. 

Here are some Cancer comrades you might recognise: Margot Robbie, Ariana Grande, Lana Del Rey, Sebastien Andrade, Kris Collins

5. 
LEO / FACE GEM TREND
(Source: socialornament)
No, you haven't been returned to the early 2000s–but the trends have, and for good reason; the year 2022 has observed a revival of decorating your visage with bejewelled rhinestones, with examples ranging features on the Euphoria series that caught the world by storm with its compelling characters and storyline, to the glamorous stages of Fashion Week–maybe you've even seen your friend bling themselves up for a particularly special occasion?

Either way, there is no better star suited for this trend than Leos: delighting and not wasting any opportunity to showcase their charismatic and dynamic personality, these signs want to shine the brightest in the room, and with this trend, they're sure to achieve that Main Character Energy; there's no one way to decorate either, so Leos are free to express themselves as creatively as they please.

And of course, as the zodiac sign bearing associations with royal themes, jewels are a must! Luckily, there are several online alternatives that do not cost as much as it looks, and Shopee sg serves as one of the most popular sources to attain the most unique and beautiful rhinestone supplies.

Here are some Leo comrades you might recognise: Jennifer Lawrence, Meghan Markle, Sandra Bullock, Dixie D'Amelio, Bryce Hall
6. VIRGO / GLAZED DONUT NAILS

(Source: fabmood.com)
You might recognise these nails as the largely popularised Hailey Bieber Nails, which became the undefeated number one manicure trend of 2022, despite its extremely minimalistic and simple design–or just maybe, because of that.

And that is exactly why we believe Virgos will be sure to love recreating this look: personifying a pure temperament that never fails to strive for perfection, there is no doubt that this zodiac would enjoy completing their classic fashion style with the natural elegance of these gelled tips to look flawless, from head to nail.

With an endlessly flowing imagination, this star sign is also more than capable of personalising this concept to better fit their unique tastes, like the use of a vividly opaque colour instead of a sheer white base, though they're still just as sophisticated to admire!

While there are more than ample tutorials online offering step-by-step techniques on how to DIY this look for yourself, professional alternatives such as Autumn Nail Spa located in Far East Plaza is a good way to secure a safe result, as well as observe the process for yourself!

Here are some Virgo comrades you might recognise: Beyoncé, Zendaya, Lili Reinhart, Signa Mae, Benoftheweek
7. 
LIBRA / CORSET TOP TREND 
(Source: Pinterest.com)
While we're not discussing the types as viewed on Bridgerton, its prevalence might just match that of the television series; in contrast to its preconceived traditions, the Corset Top Trends introduced in 2022 is intended to empower women, encouraging them to feel confident and sexy in their own skin–and with the boundless charms of our most romantic sign, Libras are very much well-equipped to incorporate this piece into their wardrobe. 
Ruled by the planet of love that embodies the elements of courtship, adoration, personal style and aesthetics, it is no surprise that these star signs reflect an exquisite taste the reclaimed corset fashion staple is more than able to satisfy.

At the same time, as air signs who favour the aspect of harmony, the corset top provides a graceful structure that remains polished and dignified, drawing eyes to their direction.

If you're still unsure about fully committing to this look, SHEIN provides an extensive range of affordable corset styles for some good old-fashioned experimenting, with some of the cutest designs that are reliably constructed and true to size!

Here are some Libra comrades you might recognise: Kim Kardashian, Gwen Stefani, Bella Hadid, Addison Rae, Cynthia Parker
8. 

SCORPIO / SHAG CUT TREND
(Source: glamour.globo)
Although being that of a fixed water sign, Scorpio folk are known to own intense personalities rivalling that of vibrant fire signs, to the point that they are often confused as such. With that, we propose the infamous Shag Haircut that's been circulating all around.

Possessing great power and passion, this zodiac deserves to try a vogue that is just as bold as they are; through the uniquely distinctive and calculated layering of this hair style, a charismatic and timeless look can be achieved to perfectly complement the intoxicating and bewitching vibe of scorpios.

And if any of our fellow Scorpios are feeling emotional–this "rockstar" look is more than well-suited to do some old-fashioned head banging as you sing along to Lady Gaga's Bloody Mary.

And--before you pick up that pair of craft scissors on your table, you might want to consider loaning some help from local salons instead like The Nail Bar X Salon or the newly booming 35a Salon--reviews have shown its well worth the money!
Here are some Libra comrades you might recognise: Kendall Jenner, Rachel McAdams, Anne Hathaway, Anthony Reeves, Fernanda Giménez
9. 
SAGITTARIUS / CARGO PANTS TREND 
(Source: instagram.com)
Definitely not one for remaining still and quiet, everyone knows a Sagittarius–or can't help but notice one. They're hilarious, assertive and lively, albeit just a little reckless: and for this sign, we dedicate the chic fashion of Cargo Pants! 

Substantiating an iconic part of pop culture's ongoing obsession with Y2K retro aesthetics, this trend promises a strong continuation into the new year, and thus should be on all Sagittarius' list of things to try; this is because we believe our adventurous and spontaneous free spirits will be able to most appreciate the unique appeal of these functional street style trousers that scream "It-Girl"! With everyone's favourite Japanese-originated sweetheart clothing store UNIQLO incorporating this look into their collection for both men and women, there's no excuse to check it out for yourself!

Now, who says you can't be practical and cute?

Here are some Sagittarius comrades you might recognise: Miley Cyrus, Britney Spears, Taylor Swift, Benji Krol, Jasmine Chiswell
10. 

CAPRICORN / SKIN CYCLING TREND



(Source: theguardian.com)

Capricorns are frequently dubbed as the the parental figures of the Zodiac, mainly occupied with consistent hard work and a respectable public image–but with their accompanying ambition and thirst for career success, this also means that they are actual girlbosses.

This leads us to consider a practical, convenient, yet absolute life hack of a trend Capricorns will find applicable in their everyday life: have you heard of skin cycling? Don't worry, it's not something exclusively reserved for makeup artists and beauty aficionados to gatekeep, and a dermatologist-approved tip to achieve optimal skin health–all while simplifying your routine.

And to Capricorns, this added convenience will be everything: by following this low-maintenance four-night regime accordingly, this zodiac will be able to achieve maximum efficiency: perfect skin appearance for a flawless makeup look, while still giving your skin a break to recover and rejuvenate from the use of these products.

Here are some Capricorn comrades you might recognise: Michelle Obama, Kate Moss, Dolly Parton, Justin Phan, Mckenzi Brooke
11. 
AQUARIUS / PLATFORM SHOE TREND 
(Source: vs.co)
We're sure within the past year, you've seen at least a few renditions of these chunky sandal moulds floating around your social media pages, because we definitely have. Across the globe, this style of footwear has been sighted within a multitude of fashion spheres, literally elevating every look they are placed within (we really hope you got the joke).

Completely reinventing the conventional feel of several genres, including the high fashion category to that of a more business casual vibe, we believe this trend to be most suited towards the non-conforming Aquarius people. Taking into account their tendency to possess unapologetically quirky and enigmatic traits, this experimental yet eye-catching style would be perfect for such individuals to remain on top of the trends–on their own terms, of course. 

From elevated boots that are taken an extra mile, to classic checkered Mary Janes, we're not telling any Aquarius signs what to do! Except maybe check out the outlets of CHARLES & KEITH known for carrying these wonderfully eye-catching chunky styles.

Here are some Aquarius comrades you might recognise: Alicia Keys, Shakira, Kerry Washington, Bella Poarch, Josh Richards
12. 
PISCES / SLUGGING
(Source: lifestyle.yahoo)


Being the final member of the zodiac cast, this water sign encompasses the pinnacle of wisdom, empathy and a soft yet unrivalled love. As such, it is not hard to view the image of this sign in a naturally beautiful and refreshing light, which happens to remind us of the Slugging trend. 
Once again derived from a branch of Korea's first-rate skin care practices, this beauty technique validated by accredited professionals ensures the results of healthy skin that is extra stocked up on moisture for a radiant complexion as pure as the hearts of a Pisces!

With the natural and nourishing formula of Joone's Perfect organic essentials, every Pisces mother is welcome to try this trend as well, with completely safe and suitable formula!
With the achievement of a dew finish, this will be sure to enhance the ethereal mystique exclusive to the last, but certainly not least favourite zodiac!
Here are some Pisces comrades you might recognise: Rihanna, Drew Barrymore, Emily Blunt, Oliver Moy, Sabrina Quesada