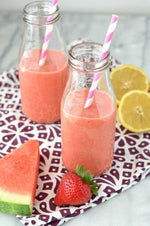 If there is one thing that we should do, it is to drink more water to keep ourselves hydrated to add into your beauty regime. If you think plain water is not enough, I will be suggesting three detox drinks to enhance your skin.
1.  Aloe Vera Detox Juice
Aloe vera is a succulent plant species that grows across the world and has many benefits for the skin. Aloe vera hydrates your skin and reduces the appearance of acne. It is also rich in vitamins and antioxidants which helps protect your skin.
Recipe: 1 Aloe vera leaf , some ice cube and water. Refrigerate 3 hours and leave it overnight.
2.  Watermelon and Basil Detox Drink
Watermelons contain high water content (92%) and are also very refreshing. It helps to calm skin inflammation and keep the skin hydrated and moisturized. Basil is great for skin as it is loaded with anti-bacterial which helps to prevent acne, lighten skin tone and shrink our pores.
Recipe: 1-3 cups of watermelon, depend on how big is your jar is and a good handful of basil leaves and water. Refrigerate and leave it overnight.
3.     Cucumber & Lemon Detox Drink
Cucumbers contain rich vitamins and mineral and they are 96% water. They hydrate our body and keep our skin moisturized. It contains silica, which is good for our skin. Lemon contains vitamin C, an antioxidant that helps to reduce skin damage and boost our body's immune system.
Recipe: Lemon and Cucumber with 7 cups water. Add a few sliced cucumbers and lemon to your jar and pour in the water and start stirring it together. Cover and refrigerate overnight.
Here are the three detox drinks that I personally enjoying making.
They are great for a boost in metabolism and enhancing your skin. Start making it and share with me your experience in the comment box below.
Have an awesome week ahead.
Cheers!
Xoxo,
Kelly