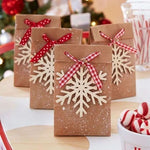 Fumbling about what to buy this Christmas ?
Here are some awesome gifts you could consider :P
1.Lovin' Myself Glov Christmas Set
Credits: @Macqueza
It provides the perfect gift set for your loved ones to freshen up at the start or at the end of the day. With so much trials and tribulation going on this year I'm sure everybody needs a scrub off this year.
In this gift set it includes GLOV Moon Pads (5pcs), a Body Smoothing GLOV and a laundry bag to carry or wash your pads. 
The GLOV Moon Pads helps to remove light makeup, dirt and impurities with just warm water and it can be used for up to 3 months. Can you imagine the number of cotton pads you'll be saving every year? 365 X 2 =  730cotton pads/year, because you use them twice a day right? So with this we could also do our part little by little in reducing the amount of waste we contribute.
The Body Smoothing GLOV ensures that your skin condition will be improved by 66% and it also helps to reduce cellulite by 27% after a constant use of 3 weeks. It is also really therapeutic to just take the time aside in the bath cleansing your body and simply just enjoying the process.
2.Cath Kidston Gardener's Club Cosmetic Pouch With Hand Cream & Hand Sanitiser

Credits: https://www.johnlewis.com/cath-kidston-hedgehog-club-lip-balm-compact-mirror/p4151349?sku=238157285
First of all I simply recommended this because it is cute but other than that it contains two really useful items for this time and age.
Everyone now needs a hand sanitiser and it would be great to have a hand cream along with it since hand sanitiser dries your hand out and the plus point is that it smells great. The smell is White clover & Matcha tea sounds weird but trust me it's good.
If you do not like this version you could head over to their website to look for more.

3. Bath and Body Works
MAD ABOUT YOU (Body Lotion)

Credits: @theblushmirage28
I hereby present to you a body lotion that is personally used by me too. For me I simply just used it as a hand cream and it's not oily or sticky at all. It has a fragrance of black currant, bright peony, pink jasmine, white patchouli and vanilla musk so this is more on the floral side of scents.
4. LUSH
Depending on what your loved ones have, if they have a bathtub you could gift them a bath bomb or a bubble bar as they have a few in christmas edition too.
If not they do not own a bathtub you could get them normal soap and body scrubs.
I also chanced upon a gift set that might be perfect, called the LOVELY gift set.
Credits: LUSH
It contains:
Bohemian Soap
Rub Rub Rub Shower Scrub
Credits: @designtrolls Credits: @lushcosmetics
The lemon and a scrub of mimosa scent will leave you feeling refreshed and renewed after the shower.
Gifting this could be meaningful, wanting them to really take a break and to realise the importance of taking care of themselves physically and mentally.
5.Teas
For all the tea lovers you could give them teas from T2 as T2 is one of the well known good teas known in singapore and it is also not too expensive as compared to TWG.
credits : @T2tea
6. Coffee
As a coffee lover i would appreciate it if someone gets me coffee as a gift too as i can just make a cup of coffee at home instead of having to buy one cup outside everyday which costs a lot.
credits : https://www.pinterest.com/pin/449797081537782611/ 
7. Starbucks tumbler
They are generally cute and their Holiday edition only comes around once every year so why not get them something from that collection
Credits: Starbucks
8. Hooga Door stopper
Credits: Lazada
Once again i suggested this just because it's cute and it is honestly useful too we all could use a door stopper at home and why not get them this and use it as a decorative piece too.
9. Burt's Bees Lip Balm
I am one of their users and I honestly think that it is one of the cheapest lip balms I've used and I am already on their third lip balm. I've tried their vanilla bean or pomegranate scent and also their original but it has a certain scent that not all will love. 
Sephora is also currently selling it as a set too and it's really affordable!
Credits: https://www.pinterest.com/pin/269160515218184342/ 
10. Crafting kits
Most of us must be bored spending most of our time so here i introduce to you some of the crafting kits such as 'make your own coasters', 'punch embroidery' or 'candle making kit' 
Credits: @concrete_everything
Here are some of the random gift ideas of different categories that I have for you. Have fun shopping for your loved ones! ♡
Cheers,
Xinyan