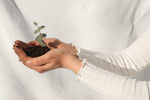 Disposable cutlery, takeaway boxes, bubble tea cups… These one-time use disposables have become commonplace in our everyday life. Are we being mindful of what we produce to our Earth? 
In 2019, 460 million metric tons of plastic were used, double that since 2000, according to OECD. The plastic waste generated has also more than doubled. Of these, only 9% of plastic waste is recycled. Usage of single-use plastics are also projected to pick up again.
Corporations have to do their part to reduce plastic usage - what can we do as simple consumers? Here are 10 reusable, environmentally-friendly everyday items we can incorporate into our life and reduce our usage of single-use products.
1. Beeswax Wrap
Ever experience having to deal with sticky cling wraps? Cling wraps often lead to wastage. Try out this life-changing beeswax wrap that you may warm up in your hand to make it mouldable.
Minimakers is Singapore's largest manufacturer of beeswax wrap, offering unique Singapore-inspired designs that brighten up your day. Use them to cover the other half of your avocado, or to cover up bowls to put in the fridge. 
Source: Minimakers Singapore
2. Long-use dishwashing sponge
A dish sponge is a daily necessity in the kitchen. Are you tired of how normal dish sponges get dirty too easily, having to replace them often. Why not look at a dish sponge that lasts?
The E-Cloth Washing Up Pad has excellent absorbency and can scrub off grime off your pots and pans. Clean up your dish ware, from caring for your delicate porcelain plates to scrubbing grease off your pans.
To maintain, toss it in the laundry to refresh its look. It will last you a year or up to 100 washes!
Source: E Cloth
3. Reusable lip scrub kit
Even in humid Singapore, we still experience dry skin, and especially chapped lips. Staying in the air-conditioned rooms for long hours causes our lips to be dry and chapped.
Achieve soft, kissable lips with the Glov Exfoliating Lip Scrub. Made with bamboo fibres, the exfoliator is gentle and delicately rubs off dead skin on your lips. Simply wet the exfoliator before use and finish off with your favourite lip balm for the ultimate lip care routine.
Source: Glov
4. Reusable food containers
Buying food to take away for the office or home? Food containers can be bulky and take up too much space in our bag. Check out the FortyTwo Collapsible Container that fits right in your bag, convenient to pull out during lunchtimes. Made with food-grade silicone, it is microwave and dishwasher-safe. It also comes in 4 different sizes for your choosing! 

Source: FortyTwo
5. Reusable notebook
Reusable notebooks sound bizarre, why not just write on a tablet if we want to go paper-free? The feeling of pen on paper that cannot be replicated with digital notebooks. The Rocketbook Reusable Notebook works by allowing you to erase the pages with a damp microfiber cloth, written with the erasable Pilot Frixion Pen. Bring your notes digitally easily by scanning your notebook and save to your Google Drive, OneNote, and more.
Source: Rocketbook
6. Reusable body exfoliator
A body exfoliator is perfect for getting rid of dead skin in the shower for clean and soft skin. A loofah is a good option for that, except that it requires to be replaced every 4 weeks for sanitary reasons - it is the perfect breeding ground for bacteria, with dead skin cells in a warm environment.
Look for the next best alternative - the Glov Skin Smoothing Body Massage for use in shower. Use it with your shower gel and rub towards your heart for a relaxing spa massage experience while firming up your skin. To maintain, wash it after every use and hang dry; it is reusable for up to 6 months.
Source: Glov
7. Reusable ziplock bag
Sure, beeswax wraps are a great substitution for cling wrap. But what about the convenience of tearing open a ziplock bag to store your breakfast sandwich? This leakproof sandwich bag is sure to save you from all the plastic waste.
Source: Envirogen
8. Coffee tumbler
Do you enjoy your morning cuppa from your favourite cafe? Instead of using the disposable coffee cups, let us reduce our usage with the FellowCarter Everywhere 12oz mug which comes in 7 attractive colours.
Source: The Editor's Market
9. Floor wipes
Do you enjoy using your Magiclean wet wipes for convenient cleaning? The disposable sheets are indeed convenient, but we may also consider the IKEA PEPPRIG reusable cotton mop pads to reduce waste.
Source: IKEA
10. Silicone baking cups
If you bake during your free time, you may be used to using paper cupcake liners for your cupcakes and muffins. Consider the Crate & Barrel set of 12 silicone baking cup for ease of removing cupcake liners without the need for oil sprays!
Source: Crate & Barrel
Reusable products may involve a higher cost than disposable ones. However, reusable products can last us longer and reduce our waste. Let's all do our parts to reduce the amount of waste we produce.