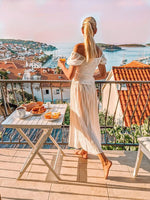 Top 10 important things to bring when you are travelling
With the launch of Vaccinated Travel Lane, we can finally satisfy our desire to travel after two years of being unable to travel overseas. We've got you covered with our travel checklist that details every important thing you need in your carry-on luggage, whether you're completely stuck on what to bring for vacation or got overwhelmed by the endless checklist.
Luggage Lock 
Imagine losing your essential travel items, such as your passport, phone, and important papers like your vaccination records and tickets. One of the worst possible outcomes while on vacation would be that! Having a reliable lock ready to guard your bags or baggage at all times is one approach to keep your belongings safe when traveling.
Source: Decathlon Luggage lock  
Glov On The Go Ultimate Set
Keep your glow even when you're on the run. For individuals who are going on travels throughout the world, this ultimate travel set pouch offers everything they could possibly need. There is one for everyone, whether they have oily skin or regular skin.
 Regardless of whether they have dry skin or oily skin, there is one for everyone. This helps to maintain the pH balance of your skin while having gentle exfoliating qualities. It cleans your face of all impurities and makeup while protecting your skin and reducing the risk of causing irritation. This helps in preparing your skin for the following step of skincare.
Source: Glov On The Go Ultimate Set
WiFi Router
These days, WiFi is a must; that is undoubtedly a first-world issue. Nevertheless, most of us rely on connection to communicate and navigate our surroundings. You may get your Wifi router at the Changi airport.
Source: Singapore Changi Airport WiFi Router 
Acwell Date Night Masking Duo Set
Wherever you travel, your skin will be moisturized and glowing thanks to this bundle. Peptides and five distinct kinds of hyaluronic acids are found in the Hydrogel mask to hydrate, calm sensitive skin, and improve skin balance and elasticity. The Hizikia Fusiforme Water Capsule Burst and moisturizing minerals in the Sleeping Mask Pack restore your skin overnight. To help your skin relax and sleep better, it contains Jeju Island rosemary extract.
Source: Acwell Date Night Masking Duo Set
Acwell Licorice Trial Kit 
 Your skincare products are the most essential item you require. These compact travel size kits are easy to transport and come with all the necessary products, such as licorice pH-balancing cleansing toner, licorice pH-balancing advance serum, and licorice pH-balancing intense eye cream.
Antioxidant and anti-inflammatory properties of licorice extract can aid to lighten hyperpigmentation, reduce inflammation, and even out skin tone. Ample humectants are also present in all of these top-selling products, which profoundly hydrate skin and enhance its look of elasticity. Additionally, it is appropriate for all skin types, including sensitive, combination, and acne-prone skin.
Source: Acwell Licorice Travel Trial Kit
Heat Pack
Heading to a cold country in your upcoming destination? This will be your lifesaver throughout the duration of your journey! Decathlon has heat packs for $5 a pack (containing 10 heat packs) and an introductory bundle of 2 x hands and 2 x foot warmers for $2!
Source: Decathlon heat packs
Small containers 
Don't want to carry around bulky shampoo, conditioner, and body gel bottles while traveling over the vacation? The 4 VAGN bottles from IKEA might save the day since they are simple to fill with your preferred products and store in a toiletry bag. Since each bottle carries exactly 100 ml, they are ideal to pack in your luggage or hand baggage when you fly.
Source: IKEA Portable Travel Bottles  
Inflatable pillows
Is your airline seat uncomfortable? I've got you covered. You can get these inflatable pillows for just $2.14 from Daiso! By just adding air to this inflatable cushion, you may obtain a good night's sleep on a long travel. No more bulky pillows, and no more stiff necks in the morning!
Source: Daiso 
Vacuum storage bag
 Lastly, this vacuum storage bag, which is available at Daiso. This is a lifesaver, especially if you just have a small luggage and a lot to pack, or if you've done a lot of shopping and don't have much space left. Prepare to be surprised by the amount of storage you may save with this Daiso vacuum storage bag.
Source: Daiso vacuum storage bag 
Medical aids
Super important especially while traveling because you never know what could happen, therefore it's always best to be ready! You may make your own tiny kit or purchase one from Watsons for $12.90.
Source: Watsons