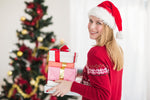 If you're living under a rock, the most popular holiday season is here, meaning it's about time to start that gift hunt–yes, even for Amanda from Accounting who you've greeted a total of five times but are now obliged to return the favour of her insisting to buy gifts for everyone. We're totally not talking from experience. 
Still, don't despair–for we've prepared a gift just for YOU: a curated list of the most fail-safe stocking stuffers that will not fail to impress her (even your mother who badly pretends to like everything you get her). And no, you don't need to return the favour.
Our Macqueza team has made sure to do their homework, so rest assured that this comprehensive list of items easily available within the city will cover all the ladies in your life, from your friendly neighbour you don't know well enough to that one friends who seems to already own every possible thing–and we promise it won't cost you a kidney. As they say, it doesn't have to be Versace. Just listen to Meghan Trainor. No seriously, she's great. 
 1) FOR THAT SOMEONE WHO FORGETS LITERALLY EVERYTHING: TAGGING ALONG FROM APPLE
How many times have you heard them ask if you've seen that one inconveniently small belonging of theirs that is extremely hard to find? We're referring to that person you're thinking of right now. 


(Source: Buy AirTag - Apple (SG))

By employing the power of Apple's Bluetooth tracking agent, you can skip the entire ordeal of those second-hand panic rushes; and they'll be sure to silently thank you every time they find those keys or wallet. It's secure, it's user-friendly–no wonder such little accessories have managed to earn a reputation as the most desired present on everyone's wishlist this season! Oh, and did we mention it's an Apple product under $30?
 2) FOR THAT GO-GETTING SOMEONE: AN INNOVATIVE GAD'GET' FROM GLOV


(Source: Glov Original On The Go)
What has two thumbs and is a magical glove capable of removing makeup and dirt from skin with just warm water? Of course, it's the GLOV On-The-Go! Okay, it doesn't have two thumbs, but you get the picture; this is truly a gift for EVERY woman that really shows you care. And we'll let you take all the credit.
Although resembling the appearance of a soft mitten, the solid ability of this cleansing instrument in effectively eliminating all impurities and residue from the mustn't be underestimated in any way; and did we mention that it's reusable?
Suitable for every skin type, its delicate yet exceptional material also provides an exfoliating benefit, so help out the wonderful women in your life! Remember, Santa's watching. 
 3) FOR THAT 'SWEET' SOMEONE: A DIGESTIBLE CLASSIC FROM SHIROI KOIBITO
It's sophisticated and it's tasteful; from everyone's sweetheart brand, it'll definitely butter them up.

Okay, we'll stop with the puns–but you know you're craving for more. 


(Source: Ishiya Shiroi Koibito Cookies White Chocolate 9 / 12 Pieces | Japan Snack 白色恋人 | Shopee Singapore)
With its brand name translating to "White Lover", these milk cookies authentic from Japan are easily recognisable, from its pleasant and aesthetic green packaging to its globally addicting flavour suitable for all palettes, making it the perfect gift for anyone. Afterall, who doesn't love Japanese snacks? We certainly like this one.
Despite its exclusive quality, there are several local sources in which this premium snack can be procured: from the shelves of our favourite Japanese chain of stores DonDonDonki, to online alternatives like Shopee, there's virtually nothing stopping you. Get it? But really, stop procrastinating. 
Here's one more pro-tip: maybe get a few for yourself. We've learned the hard way. 
4) FOR THAT 'SCENT'SITIVE SOMEONE: GOD-'SCENT' FROM YANKEE CANDLE



(Source: Yankee Candle Candlelit Cabin 623g : Amazon.sg: Home)
While Christmas only comes once a year, there's never a wrong time to spice things up with a fragrant candle or two. In fact, why don't you make it a set? 

Either way, the diverse selection of scented candles from Yankee Candle appears more than ready to accommodate your choices: from gift packs specially designed to complement the festive season to personalised options—these candles reflect quality over quality. But there doesn't seem to be a lack of quantity either, with other attractive alternatives to explore like freshening room sprays and adorable car jars to accompany your road trip. 
Generally within the $30 range, these fragrances will indulge the atmosphere in a soothing aroma of smells that are hard to forget–or use up.
5) FOR THAT 'TRENDY SOMEONE: A POPULAR CHOICE FROM LOVE, BONITO

Now here's a gift that will always fit.
And no, gift cards don't mean that you're out of ideas. In fact, these presents offer more imagination and flexibility to the recipient, extending out the ability to personally hand-pick their own gift–from you. 
Love, Bonito is a regionally accessible brand that is both well-designed, of good quality and is affordable. Oops, that's three things. No wait, their collection is also abundantly up-to-date with the latest fashion trends.
So, for fashionistas who dress to impress, even Santa–this one's for them. 


(Source: Gift Cards | Love, Bonito SG)
The label helps you send your best wishes and cheers to loved ones–with their beautiful e-Gift card services ranging from $20 to $100 that can be redeemed on all platforms, we told you they have a wide variety!
'Tis the season to be jolly, so send them on a shopping spree. 

6) FOR THAT STYLISH SOMEONE: A LONG-LASTING BENEFIT FROM DYSON

If a man's best friend is a dog, what is a woman's? While there are many answers, we believe a strong contender for this question would be their hair.
Here, we're really getting to the root of things: for less than $40, you can sign her up for her very own personal stylist with this breath of fresh 'hair'! And don't worry, it's not a split cost, you'll be paying them in full up-front.


(Source: Dyson-designed Detangling comb Black and Copper)
These adorable groomers produced by one of the most innovative companies today are designed to support all hair types, preventing its users from getting tangled up in their journey to healthy and beautiful hair, and brings a gentle touch to the hairstyling table.
Of course, that is not to say it can't handle the heat–it's a heat-resistant kind of gal. 
7) FOR THAT DELICATE SOMEONE: GOING HANDS-ON FROM JOONE

If you still can't quite put your finger on what to get her, we have another suggestion, and its hand-made for this particular season:


(Source: Joone Hand Care Duo Set)

With the normalised practice of regular hand washing and carrying around hand sanitisers that has been brought about by the COVID pandemic, hand creams have also become a rather common item to include in our daily essentials. Afterall, moisturised hands are still germ-free!
Well, Joone's Hand Care Duo Set ensures exactly that; two birds with one stone, right? Or, well–hands. 
Made up to 9% natural ingredients without any addition of essential oils, this cleansing spray and moisturising cream form the perfect tag team in cleaning, protecting and moisturising your hands, with a refreshing touch to the skin. FYI, it's perfect for pregnant and breastfeeding moms. 
8) FOR THAT OUTGOING SOMEONE: NO EXTRA BAGGAGE BY UNIQLO
(Source: ROUND MINI SHOULDER BAG | UNIQLO SG)
We know you've seen these bags around somewhere, or everywhere. So why not wrap it up as a gift for her?
It's so simple, but who ever said simple never worked? Although made solely of nylon material, these viral bags reflect a reliable sturdiness that will promise to hold on to its assigned things, all the while retaining a convenient and versatile quality she and her fashion will just love.
There's also an assortment of different colour selections to choose from, so you might even be able to gift it to him too. 

9) FOR THAT EXQUISITE SOMEONE: SOMETHING IN THE AIR FROM ZARA

If you think the multi-national clothing chain has only dabbled in fast fashion, we suggest you scroll through TikTok–for recommendations on what their best perfume has to offer. 
You can't go wrong with perfume, but you can go really right–and we think Zara perfumes understood the assignment. Bet. 


(Source: Here are the top trending Zara perfumes you should get in Singapore)
Do you think she prefers classical scents that are reliably secure for everyday use? Or a rather unique effect that is sure to earn compliments, especially during the Holiday season? Afterall, nothing conveys the Christmas cheer like a sweet vanilla smell. Well, a Zara one. 
Psst, we hear TikTok likes Ebony Wood. You're welcome.
Sad to leave and want to browse more content? We can hep with that too--how about checking out our MACQUEZA Guide: K-pop Idol's Skincare Tips ?