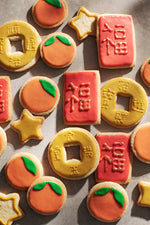 The long rollercoaster that was 2022 is finally coming to a close, but don't be too sad to see it go–for we mustn't forget to mark our calendars for the next Lunar New Year! This one's big.
With the world continuing its adjustment into new conditions and norms introduced by COVID-19, we must not forget the festivities of this season that will truly celebrate and welcome the fresh start of a new year. This means an exciting period of parading around in new fancy clothes, receiving beautifully designed red packets that will make you more financially secure, reconnecting and catching up with loved ones, and of course–hogging an entire jar of pineapple tarts before they're all gone and you're left with nothing but sad cravings.
But do you really know what that plate of Nian Gao contains? Don't worry–we're not trying to make you put down that piece of Kueh Bangkit. If anything, this might encourage you to appreciate these seasonal snacks even more.
Several food ingredients have been found to possess several benefits for the skin, and have thus become increasingly included in the production of cosmetic products and other personal care items. This is due to the belief that if the ingredient in question is beneficial enough to consume, it offers the impression that direct application to the skin must be ideal as well–and we don't deny that. 
However, this is not to say that such starkly different methods of usage would yield the same results. In fact, while the intake of our most beloved Chinese New Year snacks are consequently not the most nourishing of diets, their ingredient list includes some rather substantial cosmetic value that your skin would absolutely adore. 
1. Pineapple Tarts
(Source: Easy Nyonya Pineapple Tarts Recipe - Homemade Jam and Pastry)

Simple, yet endearingly irresistible, pineapple tarts are truly one of the most popular snacks to be enjoyed with friends, family, or simply by yourself, when you don't have to share. They're bite-sized too, so you don't have to feel so guilty when you reach for the next one!

However, it isn't their appearance that appeals to everyone so much: paired with a buttery and soft cookie exterior, the sweet and sour taste of its centrepiece has the potential to make or break the quality of this treat. Of course, we are referring to the pineapple part of its title.

Though, did you ever wonder if this same statement could be applied in the context of your treasured cosmetic products?

Spoiler alert: it can! Well, not exactly pineapple in its most distinguished form–but you get the picture. Bromelain, an accumulation of natural enzymes that can be extracted from the Pineapple plant, is in fact used within the production of skincare formulations for its exfoliating properties and ability to remove damaged tissue, providing a healthy and dewy glow to the skin surface. It truly is an ingredient loved by everyone!

2. Prawn Roll
(Source: Prawn Roll Recipe - Royal Bakery)

Resembling the auspicious appearance of solid gold bars, we have to agree with this comparison, given how rich in flavour their contents hold. From the satisfying crunch of its crispy outer coating, to the hidden tang of dried shrimp filling that prompts just the right kick of spice, these treats contain both quality AND quantity. No seriously, take the jar away from us.

However, these mini rolls aren't the only thing shrimp ingredients are abundantly filling.

Found within the exterior exoskeleton of such creatures, you might have heard of something called Chitosan–and no, it's not a shrimp's name. Being commonly incorporated within cosmetic applications, this substance appears to be just as popular as its food counterpart, and packs quite a rich content itself, such as: maintaining skin moisture levels, toning skin, remedying acne concerns, as well as enhancing the skin's natural barrier function. 
3. Kueh Bangkit
(Source: Kueh Bangkit Calories and Health Benefits - Royal Bakery)

These pastries might be recognisable from their pearly white appearance and delicately rigid form constructed of mouth-watering ingredients such as tapioca flour, eggs, pandan and coconut milk. You could even find different meanings within the intentional shape of their design, from goldfish silhouettes indicating prosperity to chrysanthemum shapes to reflect good fortune.

However, we mustn't simply judge a book by its cover–afterall, who could anticipate that soft crumble to the taste hiding within? Or the fact that the same coconut milk used to bake this delicious confection could also be employed as a sealing agent to ensure the retention of moisture and hydration within our skin surface? Now you know!

In fact, this component is found within the foundation of various skincare lines such as KORA Organics as a core nourishment due to its anti-inflammatory value that facilitates the soothing and improvement of skin condition. 

4. Nian Gao
(Source: CNY Recipe: Nian Gao – Ninja Shark Singapore)

When it comes to the period of Chinese New Year, who could ever forget about the infamous Nian Gao? It is in the name; while it is a dessert that can be enjoyed all year round, its popular season definitely coincides with the CNY celebrations, and is actually considered a traditional custom for "growing every year".

However, its inclusion of rice starch also has a reducing effect many might not be as aware of–its ability to reduce shine on the skin, by effectively extracting oil impurities. This means a great help in getting rid of those acne problems and blemishes!

Due to its natural elements of sun-protecting agents such as allantoin, rice flour is also able to offer protection against harmful UV rays, preventing the skin from such damage and effectively resulting in a brighter complexion. 

5. Salted Egg Fish Skin
(Source: Irvins Salted Egg Fish Skin)

I think we've all been there–whether you've already held an addiction before these snacks started littering the platforms of your social media, or you finally gave in to that one friend who you think might actually need an intervention before they get a health concern–either way, you find yourself unable to stop the crunching…sound of finishing a whole bag by yourself.

And yes, we know this particular refreshment may not be the healthiest for your body, but perhaps your skin could benefit: in recent times, fish skin was found to possess an effect of keeping those skin wrinkles at bay (we really hope you got the joke). But seriously, these ingredients do not only seem to contain salty goodness, but also supports the presence of collagen, a rather valuable protein greatly sought after for its wealth of anti-ageing benefits. Looks like fish skin isn't just popular in the food industry. 

6. Licorice Melon Seed
(Source: EGO Liquorice Melon Seeds)

If you're wondering why these seeds are almost always included in your CNY feast, they're actually an admired sign of signifying a harvest of wealth and abundance, so you might want to hold on to a few for yourself.

Due to its auspicious nature, this snack is usually included in the 'tray of luck', a customary practice you might be familiar with when paying Chinese New Year visitations or preparing to receive some yourself. However, they don't appear to stick to a signature look, carrying a diverse range of tastes that never fail to impress, from a bearing a roasted ambience matching the essence of a popcorn kernel that children would particularly fancy, to pulling off a uniquely sweetened licorice coating that is irresistible. Personally, the latter's our favourite, for more than one reason.

Glabridin, a substance that can be extracted from the component of this plant's construction, has been found to reduce hyperpigmentation across all skin types, with the added feature of balancing skin cell condition and brightening skin tone evenly.
It's no wonder this substance is becoming one of the hottest ingredients highly sought after by many skincare brands, most prominently utilised by the well-known South Korean brand, Acwell.

In fact, one of the brand's most prominent and bestselling products happens to feature this very ingredient–yes, we're talking about their cult favourite skincare line revered across multiple countries, with a rather direct name: the Acwell Licorice pH Balancing Line.


(Source: Acwell Licorice pH Balancing Intensive Eye Gel Creamhttps://www.macqueza.com › products › acwell-licorice…)
In fact, why don't you try one for yourself? We hear the Acwell Licorice pH Balancing Intensive Eye Cream does wonders: Acwell Licorice pH Balancing Intensive Eye Gel Cream