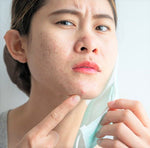 "Maskne is a combination of friction, sweat and heat." Dr Dendy Engelman.
Maskne happens when your mask rubs against your skin and moisture develops and is trapped in your pores. If your skin isn't clean enough, this can lead to enlarged pores, facial breakouts and other skin issues. Be careful not to over-exfoliate or use strong chemicals on skin as it will cause even more irritation.
Non-foaming Fragrance-free Cleanser
To ensure a clean and clear skin, get a gentle fragrance-free cleanser that avoids stripping skin of moisture. Acwell pH Balancing Bubble Free Cleansing Gel is a mild bubble-free cleanser that won't over-strip the skin's moisture and irritate existing breakouts, maintaining a happy and pH balanced skin. 
Alcohol-Free Toner
Toner is needed to break down dead skin cells and dissolve oil build-up or excess dirt on skin. Acwell Real Aqua Balancing Toner is an alcohol-free toner to minimize pores and control excess sebum on skin. It is infused with licorice extract to revitalize skin and decongest pores.

Eye Cream with Peptides
To prevent fine lines around our eyes from getting deeper, invest in an eye cream with peptides. It is important to find an eye cream that absorbs quickly, light-weight and non-greasy to prevent milia seeds forming. Acwell Licorice pH Balancing Intensive Eye Gel Cream is your go-to product to look bright & refreshed like you had 10 hours of sleep. Peptides are amino acids that will help to stimulate skin to boost collagen production for firmer and younger skin.
Gel Moisturizer
It is essential to use moisturizer every morning and evening to keep skin hydrated all day. Acwell Real Aqua Balancing Cream is a fragrance-free and oil-free gel moisturizer that corrects skin's moisture balance without clogging pores. It contains brussels sprout extract to help to soothe skin and brighten dark spots. Non-greasy and gentle on skin!
Sunscreen
SPF is vital to protect skin from sun and "mask tan", also to lower the inflammation on skin. Giverny Milchak Tonedation Tone Up Sunscreen has a lightweight and non-sticky formula that  helps to brighten, even skin tone and creates a natural "no make-up" look.
Calming Face Mist
Many will think that face mist is just overpriced water. But it is more than that! Choosing the right face mists with right ingredients can help to combat dryness and brighten dull and tired skin. Acwell Licorice pH Balancing Essence Face Mist contains antioxidants like licorice extract to help fight the effects of daily exposure to pollutants, prevent clogging of pores, reduce inflammation and soothe acne-prone skin. It can even help to prevent new pimples from forming!
Due to the pandemic, we might need to wear face masks for a longer time. Choosing the right skin care products and routine can help lessen mask-related skin damage and breakouts. 
Hope these tips will work for us as well as it does for me! Let me know.