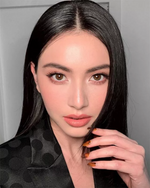 How to put on makeup with a face mask like a pro?
Here's tips to enhance your natural features and guides to look good while wearing a face mask. Wearing a face mask all the time can be troublesome and can also cause skin to have an outbreak or irritation. It is no longer about wearing a full face of makeup, but HOW to keep it flawless and create a healthy natural look.
Let's begin by focusing on the part which is showing. The area around the eyes and treat any spot blemishes to create a fresh and natural looking face with fewer products.
Base
Always remember to put on your sunscreen to prevent aging and sun blemishes. Giverny Milchak Tonedation Tone Up Sunscreen is hydrating with additional SPF50+. It is a multi-functional cream that helps to brighten and even out skin tone, also able to double up as a makeup base. It's non-oily and sticky texture is a bonus for all oily/combination skin types!
Conceal
Use a concealer to conceal the dark circles under the eyes. It is essential to brighten up the face and to look more awake and refreshed. Giverny Milchak Cover Concealer is a great choice as it is light-weight, hydrating, able to conceal fine lines easily and blends like a dream. 
Brows
For many of us, eyebrows are often neglected in the morning makeup routine as it takes an extra effort without knowing the fact that your looks will always remain incomplete without proper eye makeup. Creating the right brows carefully shaped to suit your face is crucial as it will help to create an illusion of a facelift and you'll look more alert instantly.
Use Sugar Reve My Favourite Fit Auto Eyebrow for an easy breeze to carefully shape and create the brows that best suits you. Simply fill in a few sparse areas, long-lasting, easy to control and stay through the day!

Eyeliner
Adding a small line near your top lash line will make a huge difference. Giverny Milchak Brush Eyeliner has a 0.07mm brush tip, great starter for any beginners to use!  Create any eyeliner look you want with the easy application and the wing you desire. For a stronger and more intense eye line, you may use Giverny Milchak Pen Eyeliner.
Powder
Dust off your T-zone with Giverny Milchak Sebum Filter Powder Pact. It is a colourless powder that helps with sebum control and keeps your skin matte throughout the day without caking your face. It also helps with blurring out the imperfection and creates a smoother skin.
Lips
A lip scrub is essential for keeping your lips full, healthy, and hydrated. It helps to remove dry, chapped dead skin and allows your lip balm to penetrate deeper into the skin. You may use a gentle lip exfoliator like the Glov Exfoliating Lip Scrubex, which is reusable and pocket-friendly. Add a moisturizing Vaseline for a healthier, smooth-looking and kissable lips. 
Setting Spray Mist
The final and important step for long wearing makeup is to spray a good amount of face mist. For make up to stay put and be transfer proof, use Giverny Milchak Setting Fixer Mist. It is an ultra-fine setting spray that helps to prevent makeup transfer when wearing a mask.