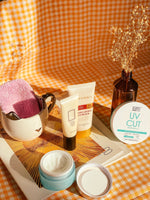 What does summer remind you of?
Summer reminds me of the adventures I had when school's out, spending my days at the beach, reading all the books I want while eating my favourite popsicles.
This year's summer has been a little special due to the pandemic, so here are 5 items I couldn't have live without.
When I think about summer, the first thing that came to my mind is sunscreen.
Even though I spend almost all my time indoors, it is still a must-have item in my list. Even when you're indoors, your skin still gets all the UV rays through your windows.
For days that I feel lazier, I will reach for Acwell UV Cut Natural Sun Cushion! The cushion applicator makes it very convenient and easy for me to apply my sunscreen without getting it all over my hands.
Also, what sold me was that this doesn't make me oilier, especially when the sun is out all day, sweat & oil is not a good combination. (if you have oily skin, you'll know.) But this controlled my skin's sebum production.
For days that the sun is stronger or when I have to go out to get necessities, I will reach for the Giverny Power Lasting Sunblock. Since we are all wearing mask, I don't see the need to apply makeup anymore but if I have to look presentable (or awake LOL), this helped me a lot!
This actually has a slight tint to it so it kinda works like a tinted moisturizer but sunscreen version ~ this also comes with UVA/ UVB rays protection so I love it even more!
When it comes to summer, I want everything to be lightweight so I wasn't surprised when I started reaching for Acwell Aqua Clinity Cream again.
This is my summer and bad skin days go-to product because it has saved my skin so many times. If you have oily skin like me, you should give this a go. It's a gel-based moisturizer so you don't have to worry about your moisturizer over-hydrating your face.
It gets absorbed verrrrrrrrrrrrrry fast so just a few taps and rubs will do the trick!
During summer, the one thing I look forward the most to doing is cleansing my face. Especially because of all the sweat and oil accumulated throughout the day, nothing feels better than a clean, fresh face.
This is where GLOV On The Go comes in, this is an exfoliator and a cleanser all in one. The best part is that I don't have to use any foam cleanser or any type of cleanser with this, I can just use it with warm water and it does the trick.
If I have to wear makeup, I'll put on this primer first! This is the Giverny Milchak Moisture Boosting Primer. Because I love mattifying foundations, sometimes it can be too thick or too mattifying that it dries out my face.
So this will help ensure that my face is well hydrated & moisturized while also creating a protective layer around it to ensure that none of the foundation gets into my pores which will cause blockage and acne.
That's all for my list of must-have items! Since Singapore is basically having summer all year round, this few items are what I use almost every day.
I'll see you next week~~~
Xoxo,
Claudia.