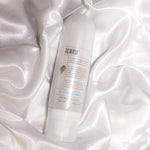 I have never been a face mist kind of person, the idea of spraying my face with water just does not appeal to me. But I've gotta say, Acwell AC-Defence Ampule has changed me. I can definitely see myself reaching for it now. 
But before I tell you about what I like about this, let me tell you about this product first. 
This AC-Defence Ampule was created for stressed skin in mind as the main purpose is to calm and sooth your skin. Additional function includes helping to improve sebum, hydrate skin, relax sensitive skin, effective for stressed and sensitive skin. Additionally, this product is paraben and sulphate free. Since Acwell infuses traditional oriental herbs in it, it has everything good and then more. 
If you are looking for a face mist as a gift, this is the perfect one as this is suitable for any skin type. Or if you are the type who don't have the habit of reading too much reviews before buying, this is it for you.  
Oily skin: improve sebum
Dry skin: hydrating 
Sensitive skin: traditional oriental herbs, no paraben and sulphate 
Now, onto my review. 
The reason why I first fell in love with this is because of the fine mist particles. 
Unlike other brands that I've tried, this doesn't leave water droplets dripping down my face. I don't mind the water droplets as much if it's for my nighttime routine. However, I find that the water droplets will move my base makeup if I'm spraying it in the middle of the day which is a straight up no in my book since I don't carry my makeup pouch with me. Imagine my surprise when I first used this and my face absorb the water particles quickly. 
Another plus point is, of course, that it doesn't cause irritation to my sensitive skin. Some skincare products that I used before will cause irritation and red blotches to appear. This will help to soothe my sensitive skin instead as I will usually spray this when I get itchy around my sensitive skin during the day. This way, I don't have to touch my face with my hands and risk irritating it anymore. I also find that spraying it before applying my makeup every morning will help my skin to get less irritated the rest of the day. 
For those that are very particular about smell, it has a slight herbal smell to its fragrance. But overall, the smell is not overpowering. As someone who is sensitive about fragrances, it doesn't bother me as much as I thought it would. It just has a very faint smell to it. 
If you love carrying small, dainty, cute bags like me, you'll be very happy to know that this bottle is so small it can definitely fit into your small bag. Because of its size, it has definitely made its way in my bag as well as my travel makeup bag. 
Overall, this is a product that has earn its spot in my skincare drawer. 
That's all for my thoughts on Acwell AC-Defence Ampule! Have you tried this before? If so, what are some of your favourite thing about this face mist? 
See you next week!
Xoxo, 
Claudia.