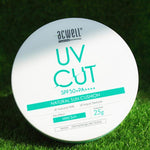 Sun cushions seems to be the next trend in the Korean beauty community. So, of course, we gotta ride the wave and do a little review as well. 
Applying sunscreen daily was one of the habits my mom instilled in me since I was a child. So, I have used a lot of sunscreens. But this is my first time using a sun cushion. The ideal of not using my hands to apply anything is always welcome by me. The pain of making sure your hands is clean before touching your face is very real. 
Right so before we go into the specifics, let me tell you the basics first. 
What's most important is that it has SPF 50+ PA ++++. It is also dermatologically tested. Their ingredients contain 90% natural ingredients. If you dislike the typical sunscreen smell, this would be a great product for you. 
It's hard to find a Korean beauty product with no white cast or doesn't make you look pale. I was pleasantly surprised when I first used this and it didn't give me a white cast.
It just blended in with my skin. It doesn't have a sticky consistency to it as well since it's aqua texture. It just feels like your skin absorb all the sunscreen when you tap it in with the sponge. Whats great is that this cushion comes with an extra puff too so you don't have to buy extra or stick with one till you finish it. This prevents germs from building up in one puff and contaminating the sunscreen inside. 
For my sunscreens, I have always preferred the non-oily, non-sticky ones because I already have oily skin so it doesn't make sense for me to put even more oily products on top of it. Plus, sticky sunscreens just makes it harder for me to do my makeup since I have to wait for it to dry if not it'll make my base look weird.
I love that its so lightweight. It's always nice when you put a product onto your face and feels like you have nothing on. Especially when it's something that you have to apply everyday. And when I have extra long days where I have to look presentable, I won't feel that my skin is being suffocated. 
This sun cushion is sooooo slim you can just slot it anywhere in your bag which makes it easy for me to carry around to touch up during the day. It also comes with a mirror which is always a bonus! It is also bigger in size compare to other brands sun cushion, however, that is what I like about this! A bigger size means that I don't have to go back and forth a few times to cover my face. Twice or thrice is enough for me! 
I don't travel much (sadly) but if I am a frequent traveller, this will definitely be in my travel makeup bag. Because, hello?! It's damn convenient. You don't have to worry about anything spilling or leaking. 
That's it for my review today! I hope you like it and found it helpful for you. 
If there is anything else you want me to try, comment down below! I'm always down to try new things hehe. 
Til next time, 
Claudia.