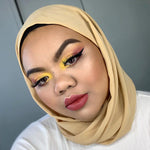 When Sabrina started posting makeup content at the age of 16, she didn't expect what she started out as a passion and hobby to become her career a few years later.
Starting with just experimenting on herself to her clients, it takes time and effort to get to where she is now.
When there are good days, there will be bad days. Sabrina recalls days where there are clients not satisfied with her makeup service and immediately wiped the makeup off after she left.
As she recall her past experiences, she said that she is grateful for this phase as it became her motivation to push herself forward and improve as a makeup artist 
"My point is the bad days are nothing compared to the amount of good days, I've gotten heart and touching messages from clients thanking me profusely for making them feel beautiful and confident. That is enough all I want."
Let us delve into the journey of Sabrina as a makeup artist!
If you have to describe your MUA journey in one word, what would it be & why?
Fulfilling. When I first started posting makeup at 16, I weren't great and my only supporters back then was my friends. Thanks to YouTube was very new at it. My skills tutorials, I slowly improved and start getting clients.
Who would you say is your inspiration for most of your makeup looks?
Makeup with Jah is my inspiration for my makeup looks. I love her creativity and I would say we have the same taste for makeup. I love bold bright colours and she offers that which benefited me. I learn a lot from her. 
What or who made you start your career as a MUA?
NYX Face Awards, this award made me start my career as an MUA. It ignited something in me when I realized experimenting with makeup can be a potential career. But I was not aware of the playing and challenges that I will face, especially in Singapore's society.
Your favourite look.
My first makeup look in Hijab. For Eid Fitri last year, I did blue glitter smokey eye with nude lips. I felt so beautiful as it's my first-time wearing hijab with makeup on and received so many supportive comments that day which makes it so special. 
Your most memorable look.
My most memorable look was my second challenge in Singapore's TOP 15 NYX Face Awards 2017. I did this futuristic look called 'Fated Enchantress' and it happened to be during fasting month. It was funny and challenging at the same time.. filming alone and looking like a 'creature' in that holy month. Fun times.
What would be the only 1 makeup item you cannot live without? Why?
I would say.. FALSIES! False lashes frames your face in my opinion, I can go bare face and only have false lashes on. It's a game changer and time saver. So quick and minimalist yet it makes you look beautiful and presentable.