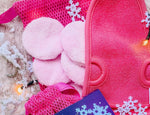 You may have always heard about how we should exfoliate to remove dead skin cells and dry skin, but it's not always about that. What if my skin type is not dry? Do I still need to exfoliate? Read on to find out more.

Exfoliating is so much more about removing dead skin cells and improving dry skin, so here are the top 5 benefits for exfoliating!
1. It Promotes Smoother Skin
"Exfoliating improves your skin's condition making it feel softer due to the process which includes eliminating old skin cells on the surface and bringing out the new cells." said by Dr. Elma Baron, a dermatologist at University Hospitals Case Medical Center.
2. It Prevents Acne
Exfoliating with a scrub helps to unclog and clean your face and body. Acne are caused by clogged pores that trap oil under your skin's surface. With that, exfoliating may also aggravate acne so you need to be careful and observe how your skin reacts after exfoliating.
3. It Preps Your Skin to Better Absorb Skin Care
It is known that your skin care products would be able to penetrate deeper to your skin when you exfoliate eliminating the dead skin cells on the surface. "Exfoliation helps serums, moisturizers, and growth factors penetrate deeper into the skin," Talakoub says. Skin care products will be able to work better as they will be able to penetrate deeper in your skin leaving your skin to also better absorb all the nutrients in the product itself.
4. It Evens Skin Tone
Due to exfoliation, getting rid of dead skin cells will be one of the factors but it will also get rid of excess dirt and makeup as well. That would help you to get a little glow on your face as the newer skin cells that emerge on the face are fresher looking, said by Baron.
5. It Boost Circulation
Not only does it help to improve your skin's condition but it also helps to stimulate blood flow. With the boost of circulation, means increased collagen production that helps with sagging skin and it also gives a natural flush.
With GLOV Skin Smoothing Body Massage, it is proven to help improve skin condition by 66% and reduce cellulite by 27%. Made with European bamboo fibres, it is soft and gentle on skin. The best news is that it is reusable and environmentally friendly!
As to how many times you should exfoliate, probably 2-3 times a week but as for me with oily combination skin, I exfoliate 3 times a week and I can really see the difference when I exfoliate compared to when I don't. Afterall, there are a lot of other benefits to exfoliating but if you have sensitive skin, my advice for you is to go look for a dermatologist to see what works best for you.
Cheers,
XinYan