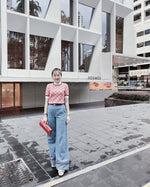 feature image credit to @happyzboys
For the second part of the series on our Mother's Day special, we got the chance to partner up with Amelia (@happyzboys)! 
Amelia is a proud mother of 3 boys, aged 14, 12 & 5 respectively. Her most memorable experience as a mom is the first time she held her sons in her arms. As someone who experienced motherhood 3 times, she still felt as privileged as the first time.  
Motherhood is a lifelong journey for everyone and just like everyone else, Amelia wishes she could have one advice before entering the threshold of motherhood. 
"I wish I could have known that breastfeeding is tough and the one advice I wish I could have gotten is to not beat yourself up if you don't do it as well as you "should"." 
image credit to @happyzboys
As someone who grew up with younger brothers with a very close age gap, I know first-hand how much damage 2 boys can do. So, one can only wonder the challenges Amelia faced with 3. When asked about the challenges, she was surprisingly optimistic.
"With a large (age) gap, it'll be tougher for them to play together even if they get along well. Also, you save money because the maternity clothes are not likely to go out of style," she adds that there is a lot of practical stuff such as stroller, infant seats, high chair that you'll be able to reuse! 
If you are a follower of Amelia's, you already know the amount of traveling she does. One can only dream! 
Traveling with family can be rewarding but tiring at the same time. One of Amelia's most memorable family trip is in Perth where they had a road trip. "With kids, you travel slower but you see more," as Amelia reminisces about her Perth trip.
One of the best things about traveling with family is the opportunity to create memory that'll last a lifetime. Amelia said that till today, the family still talks about their Perth trip. 
With the pandemic that's happening around the world, traveling seems like a thing that we all took for granted. 
Amelia has also taken extra precautions in the house to keep the family safe such as encouraging them to maintain personal hygiene and keeping them entertained at home to reduce the chances of contact with people outside. 
If you can tell what a person loves from their Instagram profile, Amelia's definitely would be her family and fashion! A quick scroll through her Instagram tells us all about her latest fashion loves. 
As for her fashion inspiration, she said that she doesn't have a specific fashion icon but she gets her inspirations from looking at other OOTDs on Instagram! 
With all, one can only wonder about how Amelia managed to achieve a healthy work-life balance. Here is a tip from her:
Prioritize your time and establish boundaries at work.
Discuss with your boss what the expectations are on availability outside of work.
These 2 are tips that she has given for moms who want the secret to a work-life balanced! She adds that she doesn't access work emails or texts unless it's urgent.