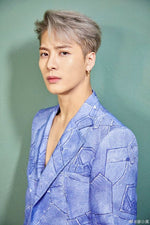 Korean celebrities who share their secrets for FLAWLESS SKIN!! 
Everyone is already aware of the benefits of the extensive Korean skincare regimen, which guarantees skin that is smooth, shiny, and beautiful. All K-pop singers are known for having amazing skin, a flawless complexion, and an appearance of skin that is silky and glassy. Always wonder how they get nice and flawless skin but couldn't figure how and why? Here is some way to do so!
 1. 
 ​​
Source: Weibo
GOT7 Jackson Wang has stated that he used to have bad skin in high school. As such, he discovered a method for clearer skin by always washing his face after a shower because shampoos and conditioners might irritate our skin. As a result, his skin has subsequently improved.
Therefore, washing your face as the last step after taking a shower is essential if you want to get Jackson's flawless skin! Acwell pH Balancing Bubble Free Cleansing Gel Cleanser is another option; it is a foam-free cleanser with a low pH (5.5) that efficiently balances skin and aids in removing sebum for a thorough clean without causing skin irritation.
 2.
Source: Weverse Magazine
In an interview, it was revealed that BTS Jeon Jungkook uses toner and cream to wash his face at night and in the morning. Additionally, Apple cider vinegar is now a part of Jungkook's skincare regimen, he added in an interview, after learning that it can be used to get rid of scars and is well-known for its ability to clean up acne and pimples. It also helps to remove debris from the face and exfoliates it.
Many fans began trying out his method, and it has truly improved as a result of his methods, although apple cider does have a funny smell but does excellent job for your skin, so you may try it out if you don't mind the smell!
 3.
Source: Naver x Dispatch
Shu hua from (G)I-DLE gives herself an at-home facial of sorts by pressing a hot towel onto her skin to help open up her pores and more easily absorb the rest of her routine. Here is a simple guide to her skincare routine!
Step 1: Wash with an electric brush. Shuhua uses an electric washing brush instead of the common washcloth or hands that most people use to wash their faces. The fact that using an electric brush to cleanse also acts as an exfoliant to improve skin tone is its main advantage. Additionally, it increases circulation to maintain firm skin.
Step 2: Use a hot towel. Shuhua washes her face and then covers it with a hot cloth. Her face's pores are opened and the skin is made softer by the towel's heat. This makes it possible for the beauty products she applies later to enter the skin more effectively.
Step 3: The next step is for Shuhua to tone her skin. After cleaning, toner removes any impurities still on the face and replenishes moisture. Additionally, it aids in restoring the pH balance of the skin, which may be disrupted by certain cleansers. Acwell Real Aqua Balancing Toner is a moisturizing toner with Jeju Mineral Water and a light exfoliant to balance excess oil and sebum production while also moisturizing the skin. It is made for all skin types as well!
Step 4: It should come as no surprise that Shuhua also believes that using an essence is the most crucial step in skincare. Essences are rich in vitamins and antioxidants that speed up skin cell regeneration in addition to moisturizing the skin. They are available in several variations to accommodate various skin types.
Step 5: Finally, Shuhua applies a moisturizer to further increase the moisture of her skin. The secret to having skin as soft, smooth, and luminous as Shuhua's is moisture. Acwell Real Aqua Balancing Cream is a lightweight, fast-absorbing, elastic, fragrance-free gel that balances the moisture content of the skin. Brussels sprout extract from Jeju Island soothes sensitive skin.
Step 6: Shuhua takes care to focus on her lips once she finishes with her skin. In order to keep her lips from drying out and cracking, she uses lip balm, which makes them appear smooth and supple even when she is not wearing lipstick or gloss. 
Lastly, Shuhua continues to top off throughout the day even after finishing her morning hygiene regimen. She always carries a face spray with her so she may increase the moisture of her skin as needed. Acwell Licorice pH Balancing Essence Face Mist It helps to balance the skin and reduce inflammation, resulting in smoother, more moisturized, and cleaner skin. Licorice Root Extract, helpful for stressed and fatigued skin, helps to reduce sebum, moisturize the skin, and soothe sensitive skin.
4.
 
Source: pinterest 
You might possibly get IU's perfect, moisturized, and shiny skin with just 3 easy steps in her skincare regimen! Firstly, Toner! Toner is also very important to us as it is the basic care for all skin care routine including all kpop celebrities. According to IU, toner takes care of everything: it evens out skin tone, calms irritation, closes pores, moisturizes skin, and most importantly, leaves it looking and feeling healthy. Without toner, her skincare routine is incomplete.
The newest beauty trend is still popular since it is effective. Just two drops of face oil will do the work for IU's skin. Pro tip: To speed up her regimen, the diva is rumored to combine her hydrating and moisturizing toner with facial oil on a cotton pad and dab this glorious mixture over her face for around five minutes, allowing it to soak up all the benefits of this concoction.
Another way to fasten up your skincare routine is to use Acwell Real Aqua Balancing Toner and Acwell Real Aqua Balancing Sleeping Mask Pack with just these 2 products, you may make it a skincare routine and enjoy your night without worrying about your skin.
5. 
Source: Pinterest
Bae Suzy, an actress, singer, and all-around beauty icon, credits her radiant complexion to the "424" technique, which involves removing makeup for four minutes with a cleaning oil, two minutes with a foamy cleanser, and four more minutes with water.
This technique, sometimes referred to as "twice cleaning," guarantees you've completely eliminated any traces of dirt and makeup that have collected over the span of a day. This creates the basis for beautiful skin and significantly lowers the likelihood of breakouts.
You can get even simpler with her 424 technique by using Glov On The Go which uses only warm water to clean away your makeup. Amazing isn't it? A reusable makeup remover glove called GLOV On-The-Go is designed to clear your skin of dirt and impurities with only warm water. Due to the delicate nature of the material and its antibacterial qualities, it is appropriate for all skin types. Star-shaped fibers will capture makeup, dirt, and impurities to reveal cleaner, more refreshed skin. After using Glov On The Go, you can also use Acwell Low pH (5.5) pH-Balancing Soothing Cleansing foam cleaners which are relaxing and assist to efficiently balance skin and remove impurities without irritating or dehydrating skin.