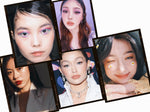 Don't let social distancing stop you from experimenting with makeup! This is the perfect time for you to do new makeup looks because even if you messed up, you have nowhere to go.
Think about it, you can take your time to perfect your makeup when you can go and meet your friends again.
Spring have quietly arrived while we were caught up with everything that is happening around the world.
Here are your 2020 Spring makeup trends!
GLOWING SKIN
@haley0n
Glowing skin have taken the centre stage for spring 2020. It seems that we are going back to natural makeup (and hopefully never going back to full glam hehe).
WHITE EYELINER
@patrickta
You don't have to go this hard with your makeup look (because lets be real, we don't all look like Gigi Hadid). But! White eyeliners are making a comeback on the fashion walkways and it may just be part of your makeup routine in the near future!
PASTEL EYESHADOW
Pastel and spring goes hand in hand so it's not a surprise that pastel is making their comeback this spring! If you are unsure if this'll work for you, this is the best time for you to test it out.
ALL THINGS CORAL!
@dawniscoming
What else screams spring other than coral?! It's crazy how you can build an entire makeup look with just one shade. For the minimalists, I can't think of a better trend.
JUICY LIPS
@ponysmakeup
I'm so glad the matte liquid lip trend is over because my dry lips were definitely screaming for help. So whoever made juicy lips a trend, my dry lips thank you. 
This juicy lips is not as easy as it looks! It definitely takes practice to perfect the balance between juicy and oily looking.
That's it for 2020 spring makeup trends! Which one is your personal favourite?
Xoxo,
Claudia.