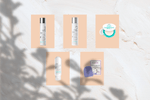 No matter your skin type, figuring out what complements your skin is always complicated. For me, my oily skin is always my no.1 skin concern and I am always on the look-out for the latest skincare product that will help my sebum production.
These are the products that I have tried and personally felt that it really helped me to control my oily skin!
Acwell Aquaseal Soothing Tonic
This is basically a toner that basically hydrates & soothes skin. I know those with oily skin always turn away after hearing the words hydrates. But this toner is not oily at all.
True to its name, it's really refreshing and soothing. After applying this, I can feel that my skin can get all the nutrients it needs.
Acwell Refreshing Fluid
If you have oily skin, you most likely have large pores too. Not only does this control sebum production, this will help to reduce pores too.
So, if you are looking for something that can control sebum and pores, I would highly recommend this!
3.
Acwell UV Cut Natural Sun Cushion
This is one of the top sunscreens I'll recommend to any of my friends – regardless of your skin type. This sunscreen work wonders for oily skin though, it is not oily at all and it doesn't become oilier as you continue through the day.
4. 
Acwell AC-Defence Ampule
This has become one of my must-haves ever since I tried it for a review.
I normally use this as a toner instead of spraying it in the middle of the day (which you can totally do!)
5. GLOV Expert Oily Skin
More and more people are becoming aware of the environmental effect of using un-recyclable materials!
If you are looking for a reusable material to replace your cotton pads, this is it!
That's all for this week's Macqueza Guide! If there is any topic you want us to explore, please comment down below. 🙂
I'll see you next week!
Xoxo,
Claudia.