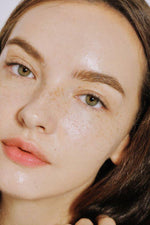 You may think glowing skin is pretty but what if it looks like you just painted a layer of grease on your face?
Ever heard of sebum? Well, sebum is to keep the skin healthy, however, too much sebum can lead to oily skin, clogged pores, and acne. To manage oily skin, it requires us to make regular skincare a habit. 
In this article, I will talk about a few ways to reduce oil production on your skin.
Firstly, washing regularly. You may ask, how regularly should I wash? The answer is twice a day. No more, no less. 
Personally, I use the Acwell 5.5 Bubble Free pH Balancing Cleanser. It helps to remove dirt and dust without irritating my skin! Also, more importantly, it retains moisture on my skin and does not strip off the necessary oil on it.
Remember to wash with warm water, avoid using loofahs or rough washcloths as they may stimulate your skin to produce more oil.  
Next up, use a toner. A toner can make enlarged pores smaller and remove small bits of product or makeup that could clog pores. 
Acwell Aquaseal Soothing Tonic and Acwell Refreshing Fluid Lotion are my favorite combo go to! They contain ingredients like Puritox and Centella to purify and soothe your skin. They also restore moisture balance and controls excess sebum. 
Let me tell you, after a week of using this combo, my skin feels smoother and looks brighter. The tiny pimples that I couldn't get rid of, reduced greatly! 
Take note of this, when drying your face and using toner, you should always pat your skin. Don't be rough to your skin!
Lastly, apply moisturizers. Applying moisturizer is actually the most important step of all! While you are thinking of avoiding moisturizers fearing that your skin will look more oily, using the right moisturizer can benefit oily skins. 
For people with extremely oily skin, an oil-free moisturizer could help keep the skin hydrated and protected, without it feeling greasy. 
I use the Acwell Aqua Clinity Cream (blue color), as it is an award-winning oil-free moisturizer. It contains seven natural plant ingredients like Centella Asiatica and licorice root extract that help to repair, calm, and improve my skin condition.
In just a week, I can already tell that my skin definitely looks more glowy (not greasy), and my acne scars are minimalized. 
That is all! Have a great week ahead and I will see you all soon.
Xoxo,
Jinya