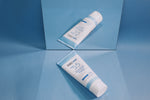 I have never been picky with the type of cleanser that I used and so, I have just been jumping from cleanser to cleanser for the past few years.
It wasn't until recently when I was more aware of the type of skincare product that is more suitable for my skin. Just FYI, my skin type is normal-oily combo, it really depends on the weather as well, but usually I've a normal-oily combo skin type.
Ever since I did a review on Acwell bubble free gel cleanser, I have been loyally using it till now.
But you know me and beauty products, I'm always drifting from one to another.
It's really important for skin to be well taken of, since your skin is your largest organ.
5.5 is the ideal pH level for your skin & most beauty products are either too acidic or alkalic which is why its extra important to use a 5.5 pH cleanser to balance your skin at the end of the day.
Like all Acwell products, it has a really faint & pleasant fragrance.
I was really against using foam cleansers since I have sensitive skin & I didn't have good experience with foam cleansers at all.
My first impression of this cleanser is that its definitely gentle. After washing, I don't feel any tightness on my skin or feel that my skin is strip of its natural oil.
The foam is slightly different from other foam cleansers I used before. This foam is slightly more solid so a little bit of this goes a long way.
I love using this but I don't think I love this enough for me to stop using the acwell bubble free gel cleanser simply because:
I'm a creature of habit

😂
But seriously, I still feel that gel cleansers are more suitable for my skin. Although this foam cleanser is marketed as a gentle purifying foam and is low irritant, it still doesn't feel as gentle as the Acwell bubble free gel cleanser.
I love this but Acwell bubble free gel cleanser always have a special place in my heart.
I would still recommend this for those who are looking for a new cleanser but don't know where to start!
Cost: ⭐️⭐️⭐️/⭐️⭐️⭐️⭐️⭐️
Fragrance: ⭐️⭐️⭐️⭐️/⭐️⭐️⭐️⭐️⭐️
See you at my next review!
Xoxo,
Claudia.