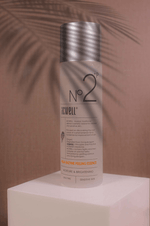 I started using this for about a month and now it has become a must-have in my skincare routine.
I had a pretty bad breakout – actually, my worst breakout ever – a few months ago. It lasted for a few weeks and it also left scars so I've been trying to get rid of it ever since then.
After a month of using it, I can tell with my naked eye that my scars have lighten. Not only that, my entire face has definitely brighten as well.
If you are always worrying about pigmentations staying on your skin after acne, you can give this a try!
What's special about this is that this is sort of a chemical exfoliator. Some of the chemical exfoliator can't be used daily because it will irritate your skin.
However, for this, it's perfectly okay for daily usage since it's made for sensitive skin! (FYI, I'm currently using it daily. I used it after my toner and before my serum.)
This will help your skin to get rid of all the dead skin cells while making sure it stays moisturized. After using this, I reduced the number of times I used a physical exfoliator from 2 times a week to once a week!
Since it has aqua in the name, the consistency is slighty watery. But you can still feel that its concentrated. It has sort of a sticky texture when you are patting it in but it gets absorbs quite fast so I don't really mind.

The dispenser is pretty standard for any skincare product. What's good about this is that it gives you control the amount of product it dispenses. This way, you won't actually dispense too much.
If anyone cares about packaging, it's not too heavy but not too light. The material doesn't feel cheap at all.
Before using this, I didn't have any expectations at all since my prior experience with brightening skincare products always went two ways:
It's not suitable for sensitive skin

There's not much improvement
I have used vitamin C products that actually stings when you apply it, especially on areas that are prone to sensitivity such as my cheeks.
Another experience I had is not having much improvement despite using it for over a month.
Overall, my verdict is that this has definitely become a product that my skin can't do without!
Effectiveness: ⭐️⭐️⭐️⭐️/⭐️⭐️⭐️⭐️⭐️
Packaging: ⭐️⭐️⭐️/⭐️⭐️⭐️⭐️⭐️
Smell: ⭐️⭐️⭐️⭐️/⭐️⭐️⭐️⭐️⭐️
Till my next review!
Xoxo,
Claudia.