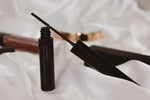 Mascara is definitely a beauty product that is tricky for me.
I have really weak lashes so most of the time my lashes can't hold mascara for an entire day so I always get panda eyes around noon.
Since I have thin lashes, mascara with big wands don't work for me. I find it very hard for me to coat every lash.
I also realized that the bigger the wand, the more product it'll carry. (duh.) But that also means that my lashes will drop even faster. 😭
Which is why today I'm going to do a review on a mascara that has a 2.5 MM wand!
https://media.giphy.com/media/xT9DPC0o6lUwV4QCAM/giphy.gif
The skinny, long wand is the unique point of this mascara and it's also the what caught my attention.
This mascara is only available in black. There are two version of this mascara, volume & longlash!
Look at how skinny & long the wand is!
With this, it is unbelievably easy to get every strand of lash! Even the inner and outer corner ones.
You can see from the picture that the wand is really small, and it really does get every single strand of lash.
I like to use both volume & longlash. I'll use volume first to pump up my lashes then I'll go in with longlash until I have my desired length.
Initially, I said that I get panda eyes around noon. But with this, since the volumizing really pumps up your lashes, it manages to last me till after work! (if you want to touch up, it's really buildable too!)
If I could only choose one between volume and longlash, I think I'll choose the volumizing one! Both are equally good, don't get me wrong. But I think the volumizing one makes the most difference for my eyes!
Long-lasting: ⭐️⭐️⭐️⭐️/⭐️⭐️⭐️⭐️⭐️
Buildability: ⭐️⭐️⭐️/⭐️⭐️⭐️⭐️⭐️
Applicator: ⭐️⭐️⭐️⭐️/⭐️⭐️⭐️⭐️⭐️
See you at my next review!
Xoxo,
Claudia.