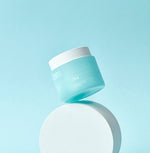 Credits @ Acwell_official
Starting the new year of 2021, you may be looking for new skincare products to try and I have a new gem that I found recently and thought that it would be nice for me to share the love. 💗
Acwell has been a game changer for me and sharing is caring so I would like to share about how acwell has helped me with my skin.
I started using Acwell products ( Acwell Bubble Free pH Balancing Cleanser & Acwell Aqua seal Soothing Tonic no.1) two months ago and I can really see the improvement in my face. There and then I fell in love with Acwell and decided to try out their moisturiser, Acwell Real Balancing Cream.
This is a new and improved formula that have just been released a while ago but I was a bit skeptical at first because it was known to be the "great oil-free moisturiser" and I didn't know how oil-free moisturiser could help my skin but I could still remember how amazed I was with its lightweight formula that could still keep my face moisturised without feeling greasy.
You can see the slight difference in the brightness of the skin.
Acwell Real Balancing Cream is formulated with ALL EWG Green leveled ingredients, also known as the ultimate clean beauty together with ingredients like brussels sprouts from Jeju island to help calm sensitive skin. Additionally, it has been tested and proven to help reduce redness by 36.86% and prevent moisture loss by 37.33%.
This moisturiser is perfect for those who have oily sensitive skin like myself. This is definitely worth the try!
Cheers,
Xinyan