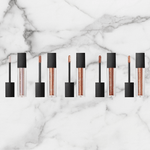 Who doesn't love glitter and blings?! But if you use glitter eyeshadow, you would know how annoying it is when glitter chunks just fall out of your eyelid mid-day. 
I am not a big fan of huge glitter chunks or glitter, in general. But the glitter in this eyeshadow is so fine that its mesmerising. It moves along with the light! 😍
One reason I tend to steer clear from glitter is because it really draws a loooooot of attention and it's not really an everyday look. 
But the reason why I ended up loving this is because you can turn this pigmented metallic liquid eyeshadow into an everyday look! It really depends on how much and how you use it. 
Also, you don't ever have to deal with glitter dropping out of your eyelid mid-day with this because once this actually dries down, it never moves. And when I say a little goes a long way, I'm not kidding. This metallic liquid eyeshadow is so pigmented that I'm amazed every time I see it. 
(In order: 01 Holy Pink, 02 Glam Champagne, 03 Posh Gold, 04 Mood Garnet, 05 Must Rose) 
My favourite colour is 04 Mood Garnet. I love how it suits my skin tone perfectly. I love putting a little (and I really meant little) bit on the inner-corners of my eyes to make me look more awake! It's perfect for looking awake when in reality, you are dead inside. 
For those of you who love experimenting with makeup, this liquid is definitely pigmented enough for you to do a glitter wing like this! There are actually so many looks that you can experiment with glitter! 
Since these adheres to your skin so well, it's a hassle to remove it at night. I definitely find bits and pieces of glitter on my face, clothes and pillow the next few days. LOL. But I still love using it. 😩
Overall my review is, I love the formula, love how fine the glitter is. And if I have to nit-pick one problem, I'll probably say that it's a hassle to remove at night. But honestly, if I can look flawless for one night, I don't mind it! 
That's all for today's review! See you next week. 
Xoxo, 
Claudia.