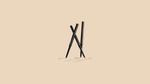 The first time I tried this eyeliner, I fell in love. 
Eyeliners have always seemed daunting to me and I have never really ventured out to explore. (If you can't tell already, I'm the type to just stick to what I love.)
But I told myself, "you know what, it's 2019. Let's be more adventurous." So, I tried Giverny Power-Proof Slim Liner and I was so happy I did. 
When I first used this, my first impression is definitely smooth. It just glideeeeeees on so smoothly. You definitely have to be careful though, since it's a pencil formula. (Or maybe I just have a habit of gripping my pencils a bit hard. LOL.)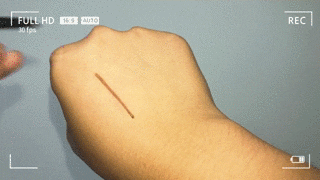 This liner is available in 2 shades, 01 Black & 02 Dark Brown.
Personally, I love the dark brown more since I love the smudge, smokey but still subtle look. Because this liner would not budge once it settled to your skin, I have to draw one eye at a time so that I can smudge it a little at the end. 
The first time I used this, I made the mistake of drawing both my eyes first. After it settled, it's basically impossible to move it. Which is what I was looking for in an eyeliner because of my oily eyelids. 😦 
It's water-proof, sweat-proof, smudge-proof. So, you know its suitable for the hot Singapore weather! 
I love that this pencil gives me the option on whether I want a clear, sleek line or a smokey eye look. The duality was what made me fall completely in love with in it. 
And depending on the angle in which you hold the pencil, you can get different effects! Like thinner or thicker lines. Sharp angle end or a smooth end!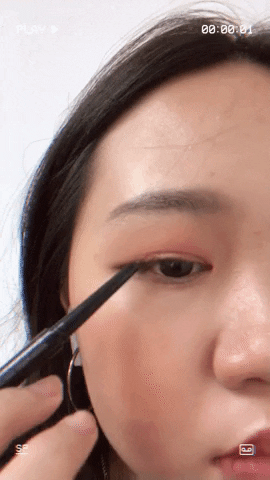 I love that the pencil is small (it's 2 mm!) since I like to have a thin line so it's very good for a precise application.
Pigmentation: ⭐️⭐️⭐️⭐️⭐️/⭐️⭐️⭐️⭐️⭐️
Cost: ⭐️⭐️⭐️/⭐️⭐️⭐️⭐️⭐️
Application: ⭐️⭐️⭐️⭐️/⭐️⭐️⭐️⭐️⭐️
I would definitely repurchase it again if I ran out! 
We have come to the end of my review! Let me know what products you want to see me review next by commenting down below. 🙂
See you next week! 
Xoxo, 
Claudia.