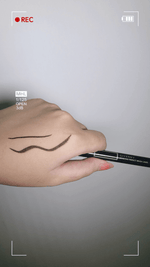 Reviewing this liquid eyeliner definitely forces me to practice my eyeliner skills. Before this, my liquid eyeliner was all over the place and not straight at all. If there is an opposite word of "on fleek", it'll be that. 
But after reviewing this and trying many, many times, I think my eyeliner skills is finally on an acceptable level. 
Moving onto the review…
The first thing that really capture my heart is the formula itself. It dries really, really quick. (Which thank god, because I simply do not have the patience to wait for it to dry). And once this dries, it really doesn't move. So, you have to be really precise. (Which sounds really scary, but I promise you, it's not…)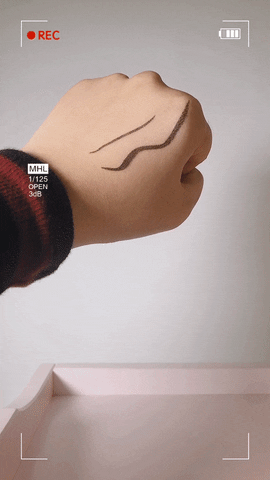 Can you see how it doesn't move at all?! 
As a makeup amateur, I appreciate how fine the tip is. It is so much easier to get into the inner-corners of my eye. On a side note, does anyone else feel scared that they pointing such a pointy object near their eyes?! 
Other than this strange fear of poking my eyes, I love everything that comes with using an eyeliner. For me, my preferred style of drawing my eyeliner is just to line the outer-corners of my eyes. 
Although it's very subtle, it gives a lot of difference to my eyes. It's really the details that matter. 
If you love doing very detailed eyeliner looks, this is definitely the one for you. My eyelid definitely gets oily (I mean, my entire face is), but this doesn't smudge for me. 
If I'm going out after work, this is the eyeliner that I will reach for. I hate touching up or having to always check my makeup in the mirror so I love using products that I know will last me all night. 
I always just unknowingly gravitate towards brown shades since it more subtle and look wayyy more natural. However, for this, I love black more than the dark brown. 
What are some other products that you want to see me review? Let me know down in the comment section below!
Till the next review. 😉
Xoxo,
Claudia.