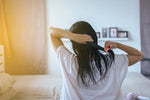 Did you know that your hair routine should be just as important as your skincare routine?
No, we're not saying that you should be curating a meticulously planned 14-step regime specifically dedicated to each of your hair follicles. But, you should really be giving your precious locks more love.
Getting a morning fright from the disheveled mess greeting you from within the mirror can be hard to avoid when you lack a nighttime hair care routine. However, these physical repercussions is not where the nightmare ends; without the proper and appropriate protection, the quality and health of your scalp will be the next to pay the price, even with the effort you put in through the day to ensure a beautifully-styled head. 
On the other hand, by securing a nurturing treatment suitable for your particular hair type, this can in turn reduce the amount of time you need to spend styling it in the mornings, and allow you to begin your morning routine with gorgeous hair all ready to leave!
As such, here's our beginner-friendly nighttime routine for achieving this outcome, and it's most definitely NOT 14 steps:

Let's start off easy with:

STEP ONE: DETANGLE YOUR HAIR



(Source: Sisley Paris)
We understand that feeling when all you want to do is plop down onto your inviting bed after a relaxing, hot shower to end off the evening–but we have some unfortunate news: while the surface of your pillow might feel unbelievably soft, it might not be as gentle when rubbing against your hair. In fact, this friction could actually facilitate a more tangled, as well as brittle hair condition. 
As such, one rather fundamentally simple yet easily overlooked method to preserve the strength and state of your hair is just by detangling your hair before you retire for the night. 
The action of brushing your hair strands thoroughly with any wide-tooth comb tool to undo any knots or tangles present on freshly washed hair not only helps to prevent risk of breakage, but also offers the added benefit of evenly distributing the natural oils of your hair evenly that would build a protective layer around each strand and boost the development of healthy hair growth. Furthermore, this measure can be easily incorporated into every hair routine, regardless of its unique type, style and daily schedule.

For individuals who are especially prone to the danger of tangles, one tip to encourage a smoother (literally) and much less painful process would be the use of a serum to assist you along the way. By applying a hair serum or oil solution to the ends of your damp hair surface beforehand, this would reduce any hair damage taken from detangling, as well as prevent the possibility of your hair frying out. 
If you're not sure which serum to use, the HAIR RITUEL by Sisley is a conditioning serum with the ideal formulation to restore strength and vitality to your hair when applied, and has become a cult favourite through the viral platforms on social media. In fact, you've probably seen this product plastering across your TikTok for you page!
STEP 2: MASSAGE YOUR SCALP 

(Source: beckleyboutique)
Remember how absolutely blissful it was that one time you tried a scalp massage? We do too.
But, do you remember–scalp massages encouraging hair growth? Or reducing hair fall? 
That's right, we've got news for you: other than activating the body's system for overcoming stress and releasing accumulated tension, receiving a scalp massage has also been said to encourage hair growth, strengthen the roots of your hair stands and remove dead skin cells.

Through the effect of increased blood circulation to hair follicles through the stimulation of a massage, the thickness and resilience of these respective hair strands can be strengthened, thus promoting the production of stronger, healthier hair growth.

This recognised practice of "hair therapy" is also extremely cost effective–because it can be free! By simply employing the sole use of your very own fingertips, it is possible to DIY a dry hair massage to pamper yourself.  Simply apply gentle pressure to your scalp area with the surface of your fingertips in small circular movements, repeating this process for an average of 5 minutes everyday.

Alternatively, the Aveda scalp solutions stimulating scalp massager is an affordable silicone scalp massager capable of replicating the soothing actions of your fingertips, with a lot less effort! Furthermore, it is tailored for all scalp types, whether oil or flaky, and its design of silicone bristles is perfectly ideal for improving blood flow. 

STEP 
3: ADD A HAIR MASK
(Source: GLOV)
With a nourishing hair mask, you can truly put your hair concerns to rest.
Hair masks are recognised for their ability to instantly moisturise, condition and soothe most hair types, and is one of the most ideal ways to repair damaged hair, being especially beneficial for dry or frizzy textures. 
Like a face mask, simply adding a hair mask to your routine will nourish, hydrate and soften the appearance of your hair. As such, they can be used as a regular treatment to protect against damaged or dulled effects, or as a quick save before an important gathering to restore your hair's ideal condition within minutes.

Some hair masks like Glov Hair Harmony Regenerating Hair Mask Treatment are even able to regenerate and rebuild your hair's texture and health with exceptional care to create a dazzling shine without weighing it down. Plus, it makes your hair smell good!
Whatever your hair's unique quality may be, there is definitely a hair mask specially designed for you; so what's the harm in adding this stress-free step to your hair routine?
STEP 
HAVE A HEALTHY DIET
(Source: JOONE)
Your hair can be affected by an extensive range of health-related factors, and this naturally concerns the aspect of your nutrition. In fact, did you know your hair is actually the first to suffer the consequences from any bodily upset, yet is unfortunately the last to reap any benefits or improvements. 
As such, an integral step to ensure a complete hair care routine is to eat a balanced diet: by consuming an appropriate and well-rounded regime of protein, iron and other minerals, this can truly ensure the generation of a complete support package your hair properties would need to promote hair growth.
On the flip side, a deficiency of the right nutrients, consisting of vitamins A, B,C,D, E, zinc, iron and other essential fatty acids, may even cause hair loss concerns and slow down the rate of hair growth. 
If all this feels a bit overwhelming, even the slightest change can reflect in bringing you that much closer to the realisation of healthier hair–whether it's the addition of just a bit more fibre to lunch, or an extra egg to fill up on your protein needs. In the nutrition world, every step counts!
And we have one more tip: if you're having some trouble knowing where to start, Joone's Perfect Hair Vitamins for Hair Loss Supplement contains all the necessary ingredients to create revitalised hair, promote micro-circulation and reduce hair loss. With this solution, maybe you don't need to load up on those vitamin berries afterall!