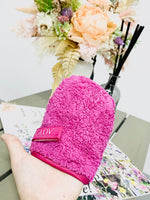 I would never dare to call myself a makeup guru–even the term "amatuer" is something I'd hesitate to adopt.
Being a reluctant procrastinator with a great emphasis on beauty sleep, you could imagine how uncomplicated and effortless my makeup routine has been curated for the sole purpose of saving as much time as possible before I absolutely have to get up. However, it is an unfortunate fact of nature that this process doesn't simply end with the last stroke of your favourite lipstick to complete that obligation of finally "looking presentable" after staying up all of last night from discovering that one webtoon you simply couldn't put down. You remember that once again for the umpteenth time whilst standing with complete exhaustion before your bathroom mirror, head occupied with one sole thought: Plopping on your bed without a care in the world, without removing your makeup. Just one day won't hurt, you always tell yourself; at least, for me that's the case. And yet, you already know, in the back of your mind: of course it will.
We ALL know makeup removal is one of the most essential and mandatory elements of skincare. But sometimes, you just need a break.

That's why, as a fellow comrade, I'd like to share a review of something I consider to be one of the greatest life hacks in the whole of my not-so-professional makeup career: just add water–to your reusable and sustainable magical makeup remover.


ABOUT THE PRODUCT:
Simply put, GLOV's On-The-Go Hydro Cleanser is a makeup-removing glove that is meant to offer an effective yet effortless way of cleansing the face from any impurities such as makeup residue and excess oil through the simple addition of water to its product surface, and features three separate versions, respectively for "All Skin Type", "Dry Skin" and "Oily Skin".

Given my combination skin type, I decided to opt for the general "All Skin Type" Option.

PRODUCT TEXTURE:
Upon removing the product from its packaging, I was very much impressed by the soft texture and practical design of the product; the GLOV On-The-Go is shaped in the outline of a glove (suiting its description rather appropriately) for you to fit in your hand with more than enough wriggle room, and features a dual-sided functionality.

The material of this product also consists of advanced microtechnology from Europe to construct refined, star-shaped fibres specially constructed to maximise the absorption of makeup, dirt and excess oil from the applied skin surface, along with gentle exfoliating properties to reveal a smoother and fresher complexion. 

PRODUCT PERFORMANCE:
Considering the history record of my skin that has been proven to be rather sensitive and easily irritable, I have to admit the honest anticipation for a horrible acne breakout in retaliation to the use of a new and unfamiliar product.

However, its actual application definitely exceeded my expectations, especially as a first-time subscriber:

Donning my usual routine of beauty essentials (check out our Back-to-School Beauty Essentials for the perfect routine under 5 minutes), I found myself loving the cleansing abilities of this product;

With just a little bit of warm water, my face was completely clear of all makeup agents and properties, leaving it feeling incredibly soft and clean looking, and this sentiment even carried forward to the next morning!

I also found this process to be far less time consuming in removing the medium coverage formula of my routine than the regular operation of smearing 3 separate makeup wipes on my face begrudgingly.

It could just be a personal issue, but the skin of my face usually feels slightly raw and inflamed after this action, thus explaining my aversion to this specific activity. However, in contrast to my usual experiences, the surface of this product was gentle and delicate to the touch, which is something I did not expect at all in consideration to the detail of its exfoliating characteristic, and is something I'd definitely recommend to friends of similar skin qualities with a clear conscience. 

My eye makeup (which is one of the heavier parts of my routine) in particular was removed so much more easily than I'd have ever expected, and within 2-3 wipes all makeup was completely gone from my eye area–and yet, it felt like all I was doing was rubbing my eye with a gentle yet well-defined towel, although its effects transcend far beyond that category. This is definitely a great solution, especially for those who love to use mascara, but hate standing in front of the mirror for 3 hours, tirelessly trying to pick off the seemingly never-ending residue. 

Furthermore, the ample size of this product is more than adequate to wash your face quickly and efficiently, yet is also petite enough to accompany you anywhere as a travelling accessory.

I was worried about the cleansing process of this instrument, but you have my assurance it is actually rather easy! For maximum effect, I used the complementing Glov Magnet Fiber Cleanser to completely free the special GLOV fibres of this product from all impurities absorbed, but I also found that reusing the resource of warm water was effective in removing a significant portion of these unwanted elements, making it extremely easy to clean!

IN SHORT,

I've been wanting to share my love for this product for a long time. Having heard about GLOV for awhile before actually deciding to experience one of their items for myself, I was afraid of being disappointed by the surrounding hype, but instead will now gladly submit to my fate of being in love with this makeup remover, and saving so much now that I no longer need to purchase makeup wipes! GLOV recommends changing your On-The-Go companions every 3 months, and I'm definitely getting a new one when the time is up!

Overall Rating: 5/5