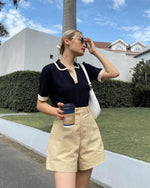 The new semester has begun, and whether you're an early bird who easily gets the worm, or hitting the snooze button at least 15 times a day is your morning exercise, everyone has time to spare for a quick and easy makeup routine. 
We know how hard being a student is, with having to balance a hectic routine of studying and repeating, trying to maintain a respectable social life, and of course–catching up on some much needed sleep. As such, why spend more time on your makeup routine than you have to? 
By stocking up on these must-have beauty essentials, you can now enjoy those extra 10 minutes of rest with a clear conscience, with the assurance that you'll breeze past your makeup routine in under 5 minutes looking more refreshed than ever!
1. Reef Safe Sunscreen
(Source: Acwell Solar Defense Licorice Sun Cream SPF50+ – Macqueza)
Having a daily makeup routine without sunscreen is like going into your exam hall without a pen: it's horrifying! With essential benefits embedded into its application such as protecting and encouraging your skin's health to retain a youthful and smooth-looking complexion, there really is no downside to always ensuring a stock of this product is included in your makeup bag, all ready for use!

As such, even on a tight schedule, we'd never recommend missing this step. However, if you're intent on saving some time a good trick would be to begin application of this product before initiating the rest of your morning routine, like brushing your teeth; this enables you to multitask efficiently, all the while still assigning ample time for your skin to successfully absorb the formula for the next step of your makeup routine.

Additionally, by using sunscreen products that have been approved as reef friendly, such as the Acwell Solar Defense Licorice Sun Cream SPF50+ – Macqueza, you can benefit your skin, AND the environment's health at the same time to protect our climate of dying coral reefs!


2. Oil blotting Compact Powder
(Source: Giverny Milchak Sebum Filter Powder Pact – Macqueza)
Contrary to its name, the power of this product is far from compact: by covering blemishes and uneven skin texture, the use of compact powder helps to create a smoother and healthier-looking complexion that is ultimately responsible for bringing the entire makeup look together.

However, this is not to say you will need full-face coverage everyday! Rather than donning a full mask of product, focusing application onto specific areas that require more coverage or correction such as redness around the nose or under eyes would allow for the achievement of a "no-makeup" makeup look that is very much appropriate for school, with a much lighter formula on your skin than a lengthy liquid routine everyday!

The Giverny Milchak Sebum Filter Powder Pact – Macqueza is one such exemplar of why this product is such a beauty essential, and is also effective in removing excess sebum and oil from the skin surface, allowing it to remain smooth and matte throughout the day with amazing coverage and treatment of the skin in one compact packaging!

3. Waterproof Long-Wearing Mascara
(Source: MACQUEZA Review: Giverny Milchak Mascara Series – Macqueza)
Now, we have a question for you: can you imagine yourself going out without wearing any mascara? We can't either.

No matter your eye shape, we've all wondered how just a light application of mascara can do such wonders in making our eyes look bigger, deeper…and simply more beautiful–and that's precisely why it's considered an essential by many that cannot be missed out.

You can even choose how you would want your lashes to look, be it an instantaneously volumizing effect that gives your eyes an intense depth, or a more subtle approach in offering more definition and detail to your natural look–mascara really is for everyone!

That being said, finding a mascara that is perfectly suited for your own personal routine and style is not always a walk in the park, and we've had our fair share of mascara fudgeups with the wrong formula–which which is why we'd recommend Giverny's Milchak Mascara Series, to completely avoid that tiring road of mascara mishaps and instantly find the perfect one for you! In fact, we have a whole review lined up specially for you: MACQUEZA Review: Giverny Milchak Mascara Series – Macqueza.


4. Long-Lasting smudgeproof Pen Eyeliner

(Source: Giverny Milchak Pen Eyeliner – Macqueza)
Another handy tool that will really help your eyes stand out is–eyeliner, naturally. By crafting your own personally desired shape, you can emphasise the shape or size of your features, or even change the entire perception of your appearance with the power of a nicely-lined wing!

Instead of carrying a heavy eye makeup look in the risky atmosphere of a tropical weather, this single pen can be enough in creating dimension and an elegant statement, making your eyes appear so much wider and awake with just a light swipe across the lid! Plus, did we mention how much of a gamechanger smudgeproof eyeliner is? Just try the Giverny Milchak Pen Eyeliner – Macqueza and let us know for yourself.

This product is definitely going into the must-have for beauty essentials like mascara, and we've all just heard how that discussion went.

5. Moisturising MLBB Lipstick

(Source: Propa Beauty – Macqueza)
No makeup look is complete without that crucial pop of colour to really elevate the final results of your makeup! It is only with such an addition that a definite tone and mood for your look can be determined and thus truly complete. And while we know everyone has their own preferences, we're inclined to share that the My Lips But Better trend has been booming for a reason–don't worry, its exactly how it sounds: a lipstick shade of your choosing that looks like your lips, but better!

There is no wrong answer to this choice, and the versatility of lipsticks are both extremely fun and empowering in allowing one to express themselves as they desire; however, it is also just as relevant to consider the effects of the product's application. Since the product carries such weight in completing your makeup look, it is important to choose a reliable formula that will protect your lip colour, but will not dehydrate or irritate your skin and complexion.

The brand Propa Beauty has taken the full essence of these considerations into actual measures, and with their creamy formula that provides sheer to full coverage, this complete collection of 12 colours are available for all skin types to try out this trend for themselves and enjoy the results with full satisfaction! Psst, our personal pick is the Propa Beauty Luminous Satin Lipstick - Made it – Macqueza, what's yours?

6. Sustainable Makeup Remover 

(Source: Glov Original On The Go – Macqueza)
And of course, to complete the perfect makeup look–you must also be ready to remove it.

Within your list of beauty essentials, it is vital to always have a cleansing agent capable of properly removing makeup, dirt and other impurities from the skin surface in order to ensure a clear and clean complexion that is free from any risk of breakouts or irritation. Among all the options of skin cleansers, doesn't a magical makeup-removing glove sound the most appealing solution?

The Glov Original On The Go – Macqueza features the use of advanced microfibres capable of attracting impure compounds and elements on the skin surface with just the addition of some moisture, thus enabling an effective and sustainable method in removing such grime without jeopardising the skin's natural barrier; as such, we believe this product is the perfect candidate for ensuring a flawless and natural makeup look that is not cakey–through a fully biodegradable and reusable formulation suitable for the makeup collection of all skin types.